INA-D04 Thermal Osmotic Regeneration System
Product Details
Specification
Before & After
INA-D04 Thermal Osmotic Regeneration System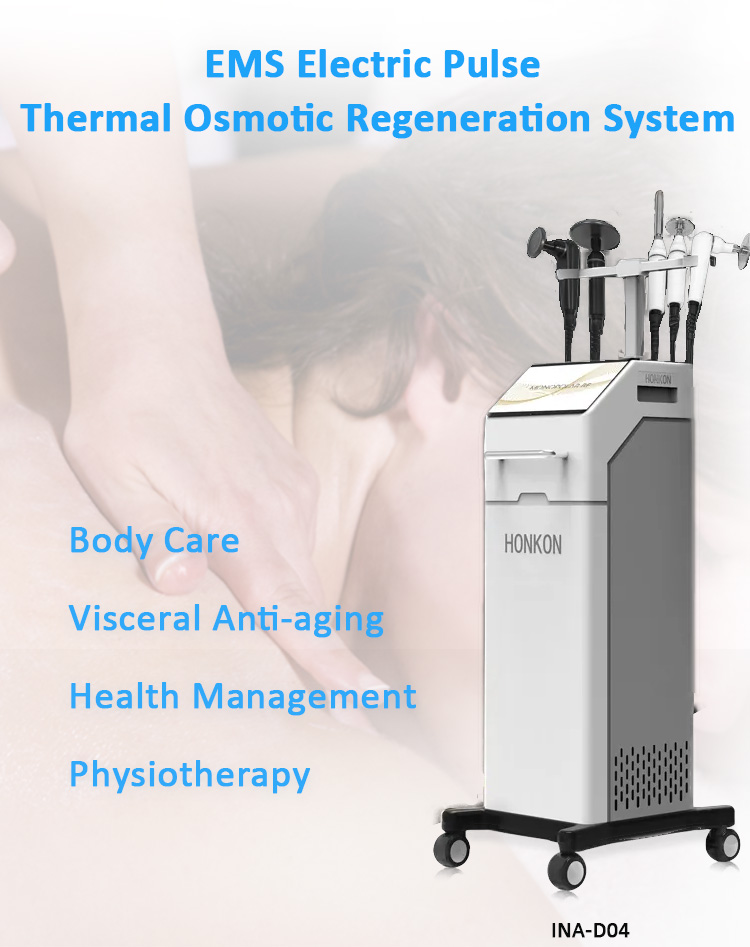 Treatment Theory
RF Thermal & Healthy Machine INA-D04 converts electric cur-rent into a stable frequency. The return plate closes the elec-trical circuit enabling our patented and stable 448KHz radio frequency to be delivered in a safe and effective manner.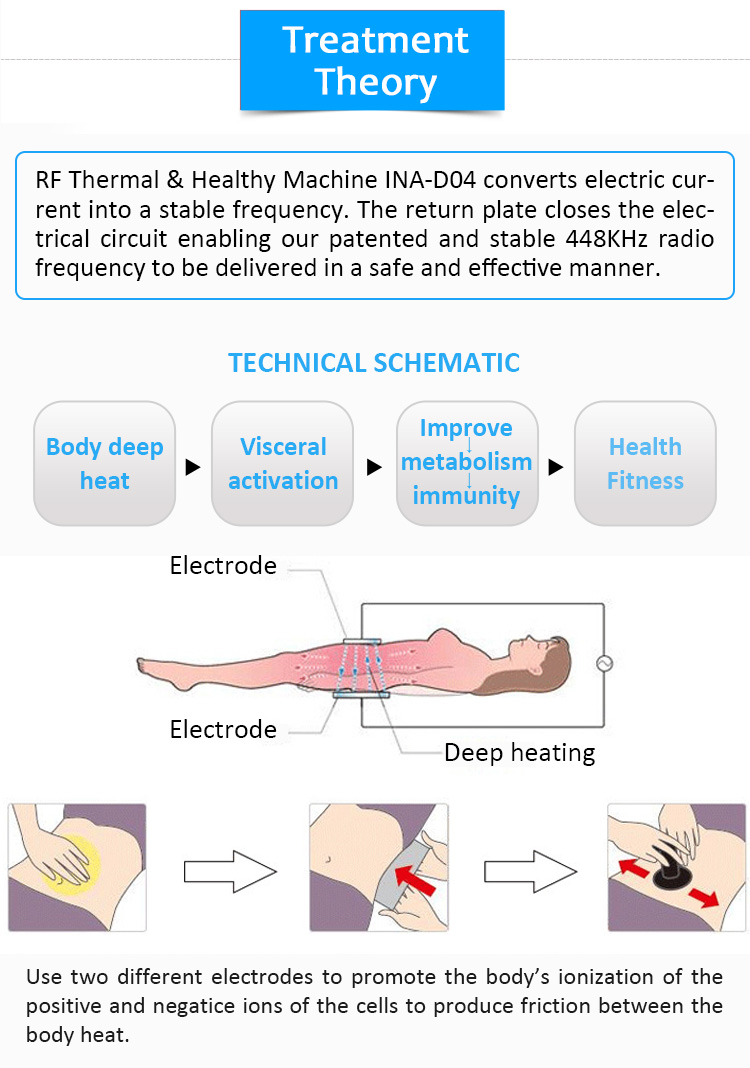 CAPACITIVE & RESISTIVE MODE
The integration of two operational modes, Capacitive and Resistive mode as well as the use of low and high output power, makes it possible to obtain subthermal and thermal effects.

CAPACITIVE MODE Suitable for superficial and vascularised tissue. The reactions caused by capacitive mode are mainly focused on the soft tissue adjacent to the electrode. Its design enables it to act as an external capacitor and to obtain a localised increase of electro-regen- erative energy. The capacitive mode reduces the internal resistance of the tissues to the passing of current (as a result of the improved vascularisation).
RESISTIVE MODE Suitable for thick, dense, fatty and fibrotic tissues. The reactions caused by the resistive mode act at a deeper level and focus on more resistive tissues, such as joints, ligaments and tendons. This mode in combination with manual techniques and kinetic therapy enables concentration of the effects of electro-regenerative energy on these structures.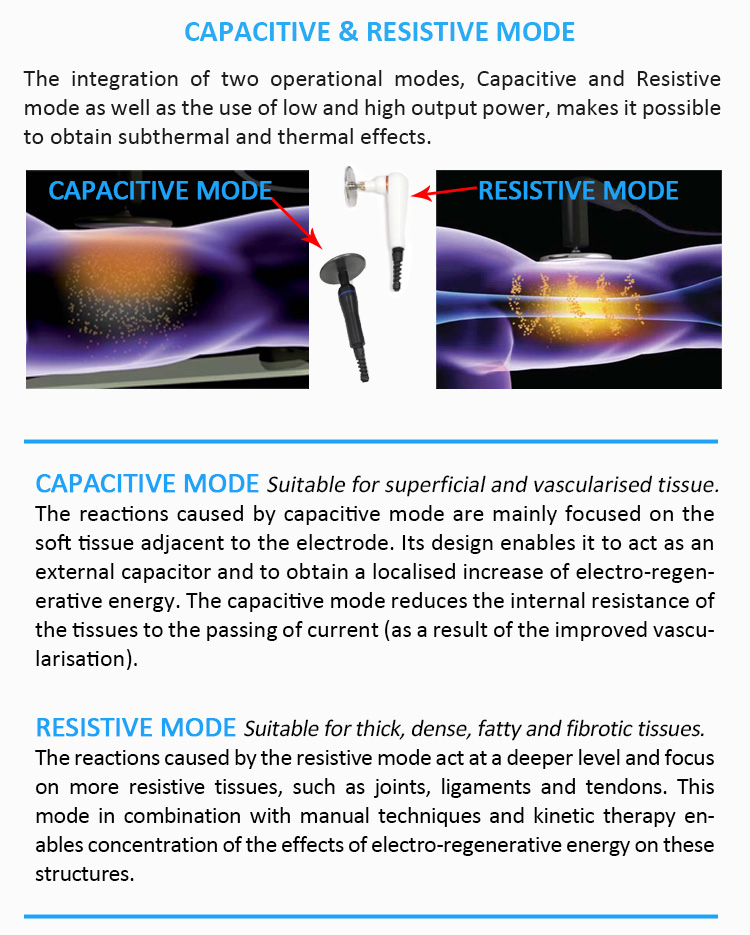 Application
RF Thermal & Healthy treatment stimulates tissue repair, which can be combined with manual therapy and other techniques to produce unparalleled results. Using a precise and stable frequency of 448 KHz INA-D04 achieves a subthermal and thermal effect.
Improve sub-health
Burning visceral fat
Improve breast hyperplasia
Improve vaginal relaxation
Postpartum repair
Skin anti-aging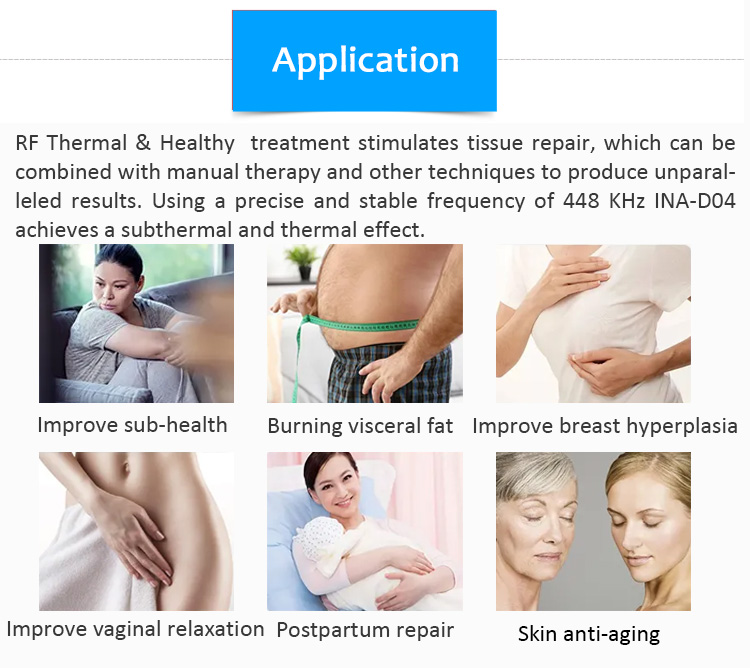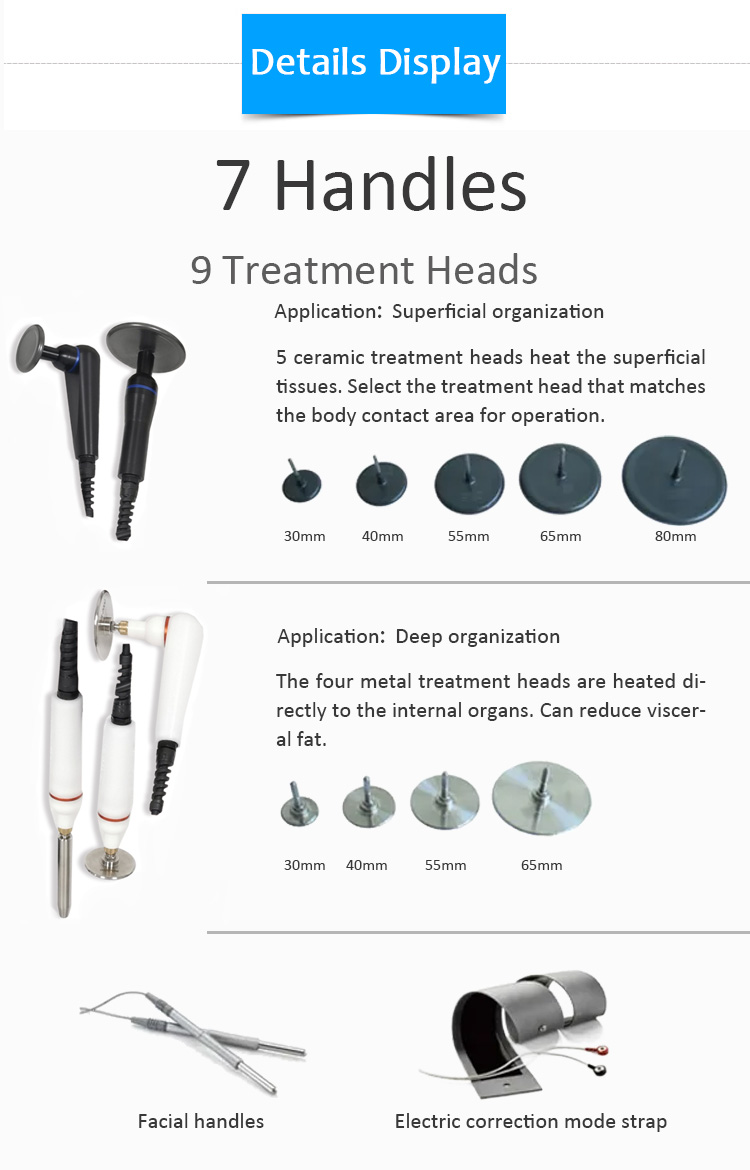 Advantages
1 Athermal Effect
Biological stimulation
2 Thermal Effect
Biological stimulation
Micro-circulation
3 Hyperthermic Effect
Biological stimulation
Micro-circulation
Thermal effect
These three effects can promote cell metabolism, enhance cell activity, promote blood flow and circulation, and improve tissue and cell oxygen binding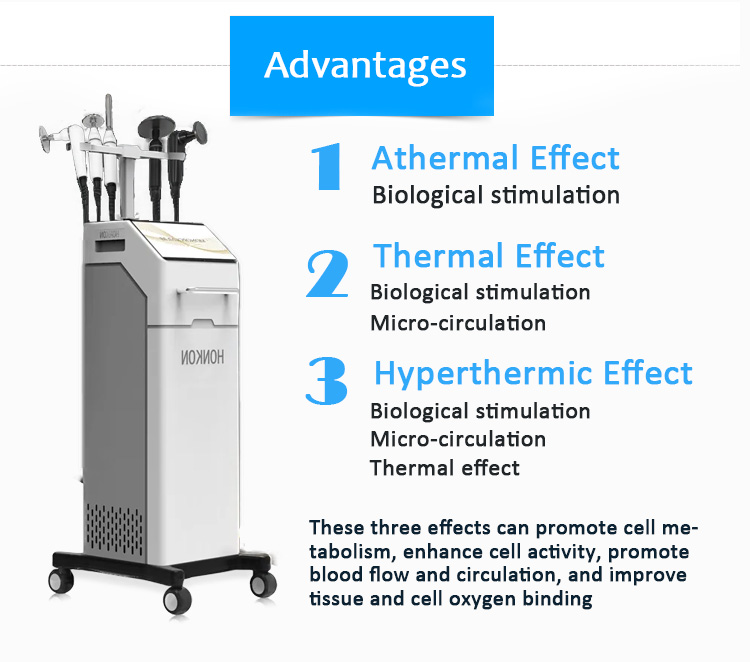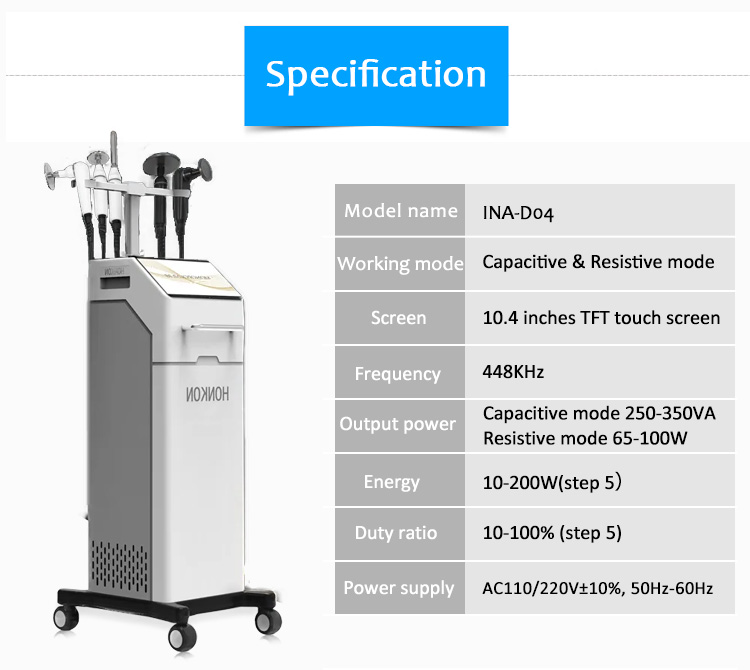 ---
Model name

INA-D04

Working mode

Capacitive & Resistive mode

Screen

10.4 inches TFT touch screen

Frequency

448KHz

Output power

Capacitive mode 250-350VA 

Resistive mode 65-100W

Energy

10-200W (step 5)

Duty ratio

10-100% (step 5)

Power supply

AC110/220V±10%, 50Hz-60Hz