LED UV radiation sterilizer
Product Details
Specification
Before & After
LED UV radiation sterilizer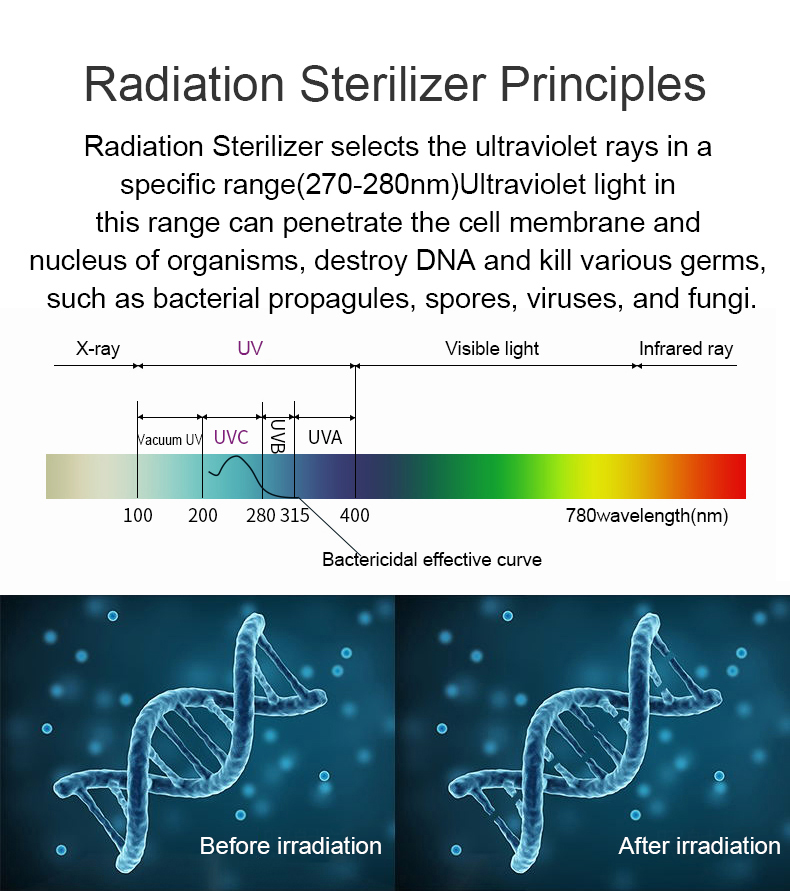 Principles
The product kills baterial viruses by directing ultraviolet wavelength which is in the range of 240 ~ 280nm. It is easy to destroy the molecular structure of DNA (deoxyribonucleic acid) or RNA (ribonucleic acid) in bacterial viruses, causing growth cell death and / or regenerative cell death, in order to achieve the effect of sterilization.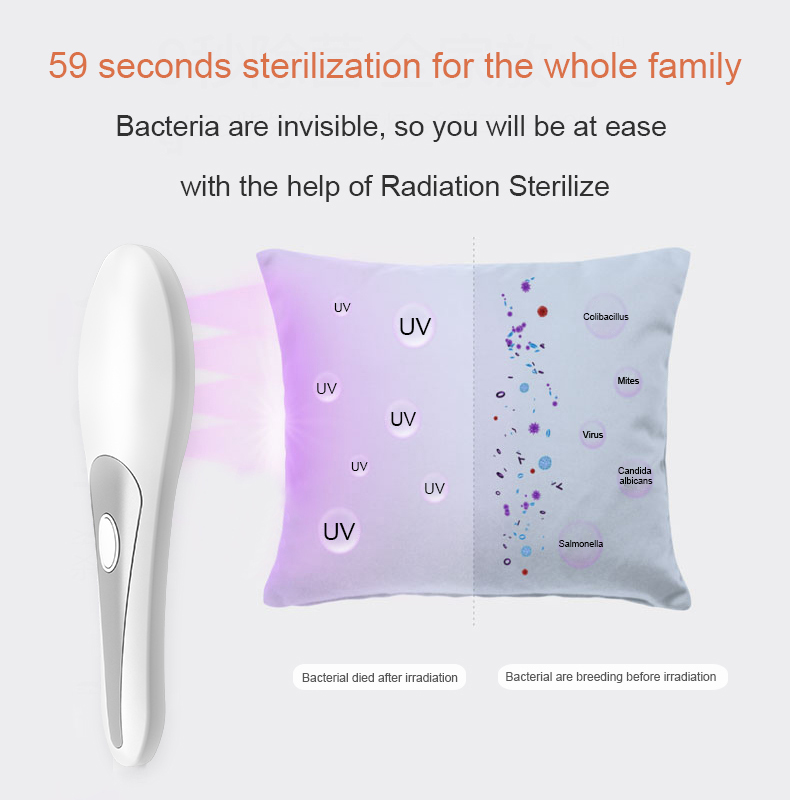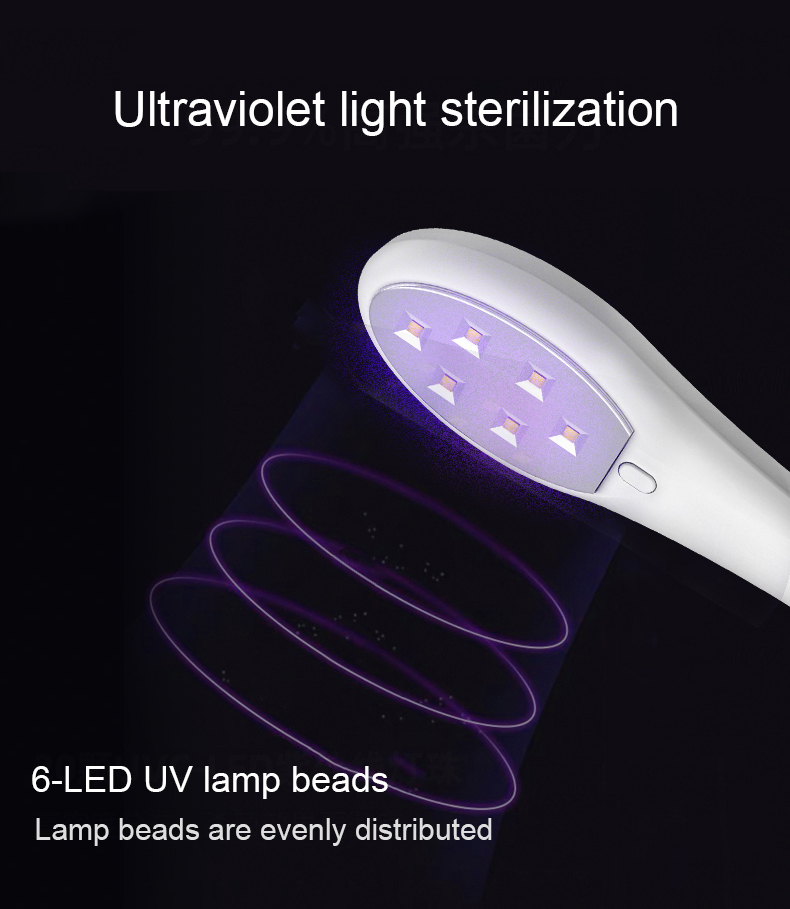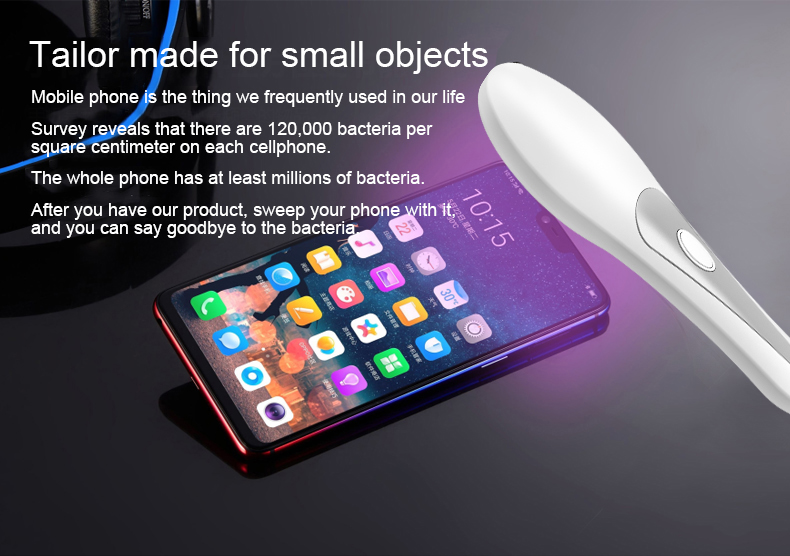 Instructions
Hold the product horizontally, with the illuminated side facing down and the buttons facing up. Double-click the button of "On" to turn on the instrument. The red indicator light next to the button will keep on. Direct the light to the items that need to be disinfected. The power will be automatically turned off after 59 seconds. Click the button "Off" when using the product, the instrument will shut down and the light will go out.
This product has a gravity tilt sensor, and when the illumination surface of the instrument is inclined ≥45 °, the instrument automatically turns off to protect the user's safety.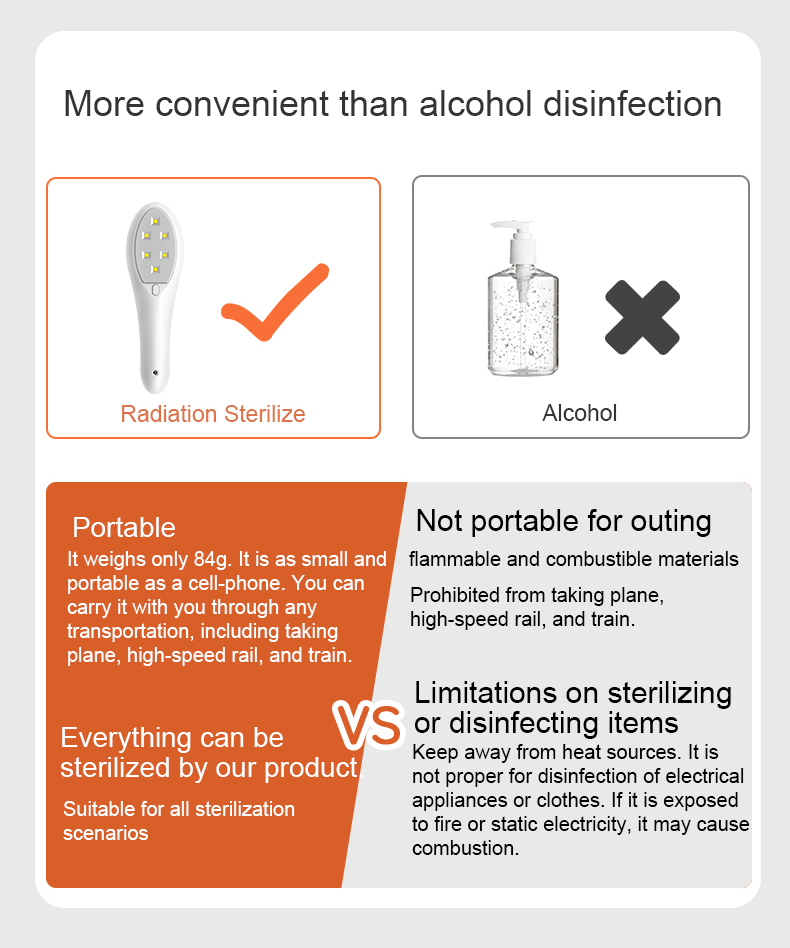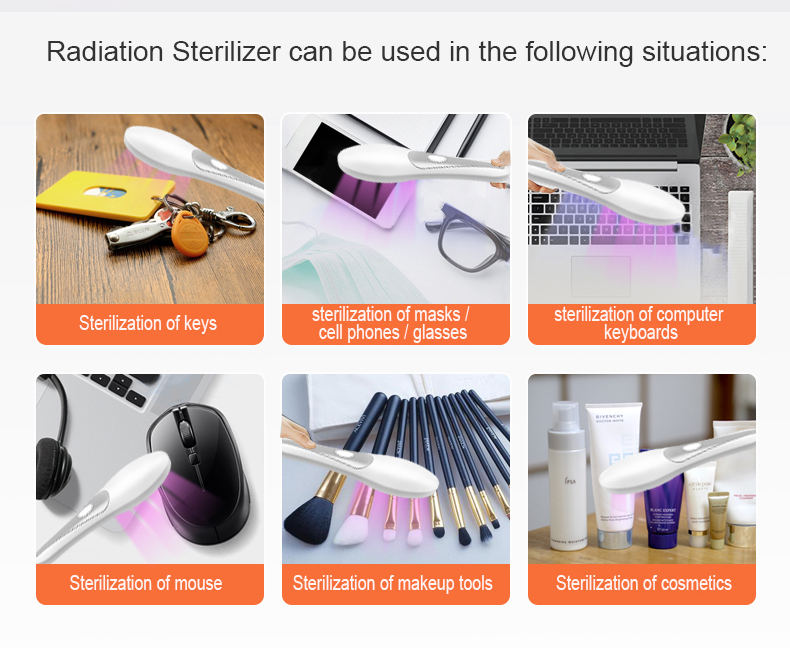 Charging instructions
Use the USB charging cable that comes with the product, in conjunction with the DC 5V / 1A adapter, and connect the charging port at the bottom of the product as shown in the figure below. When the product is charging, the red light of the indicator flashes. When the battery is fully charged, the indicator light will turn to red and will be automatically turn off after one minute; The charging time lasts about 3 hours. The product cannot be used while it is charging.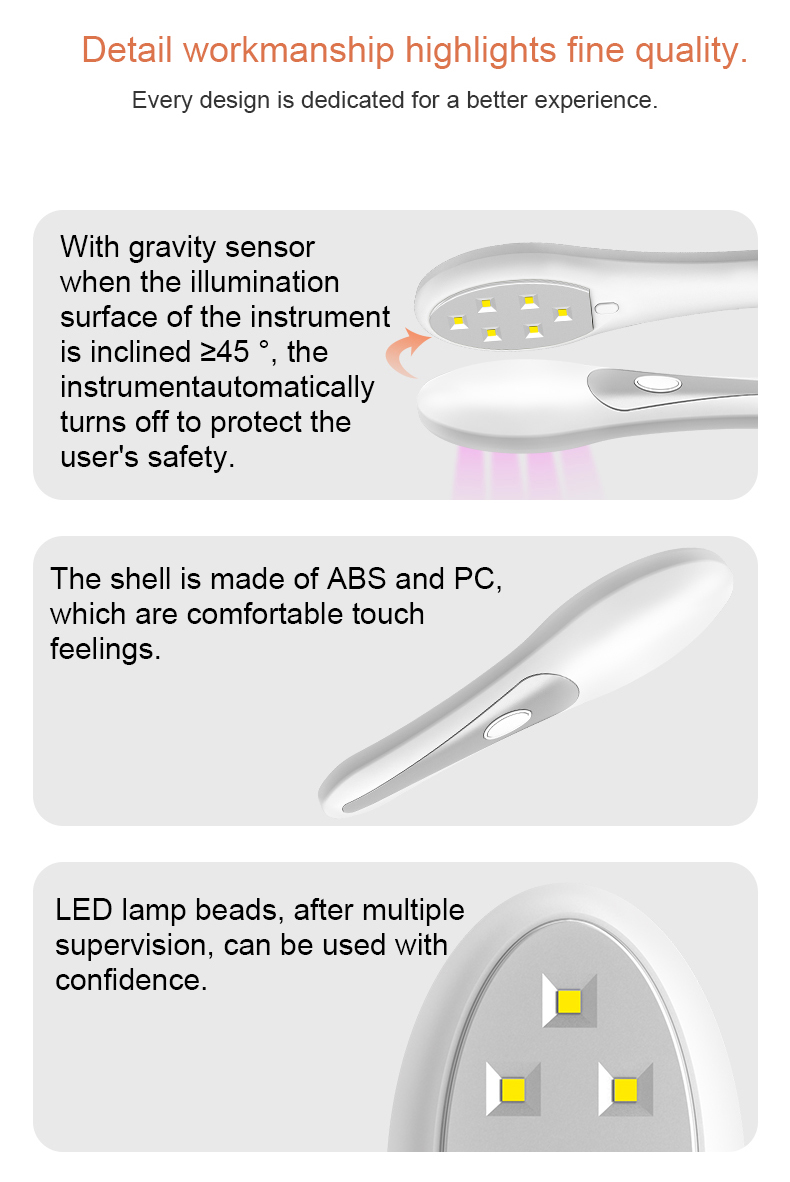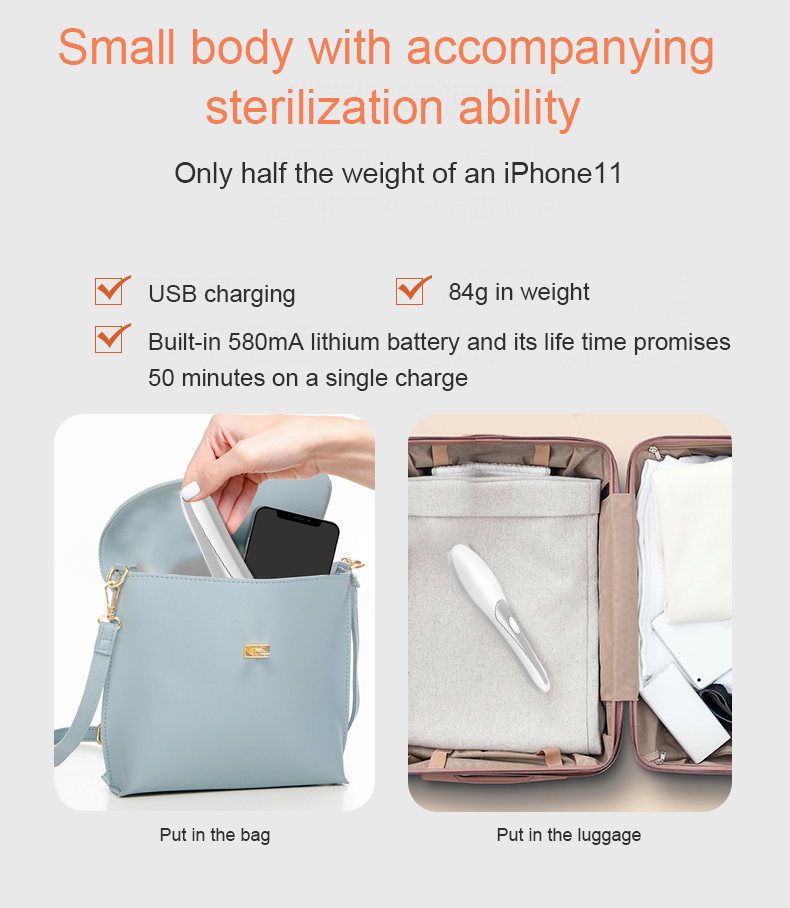 Precautions
1. When charging the product, please use the DC 5V / 1A adapter or connect the USB port of the computer; if the product is not used for a long time, please charge it once every six months to avoid the battery failure.
2. It is not suggested to use or place the product at a high temperature; otherwise it will cause the battery to be overheat, resulting in functional failure, or even a outbreak of fire.
3. This product is not waterproof. It is not suggested to immerse the product in water or wash the product directly under a faucet. Please do not use ultraviolet light to reach people to avoid possible damage.
4. Ultraviolet rays have certain damage to human skin. Please do not directly irradiate human body, and please do not directly look at the ultraviolet light source, otherwise it is harmful to eyes.
5. Please do not allow children and people with limited physical activity ability to use this
product.
Product Cleaning and Maintenance
Before cleaning the product, please confirm whether the power is off. Please clean the product with alcohol gauze, wipe it with a paper towel, and store it in a dry place.
Note: The product must not be rinsed with water. Please do not use sharp or corrosive, volatile thinners or alkaline cleaners.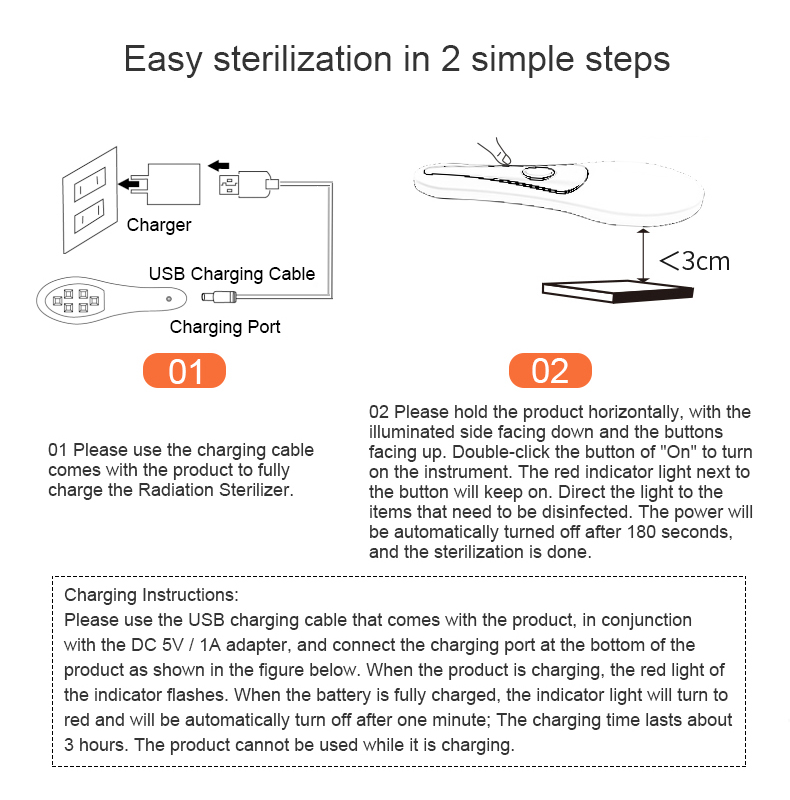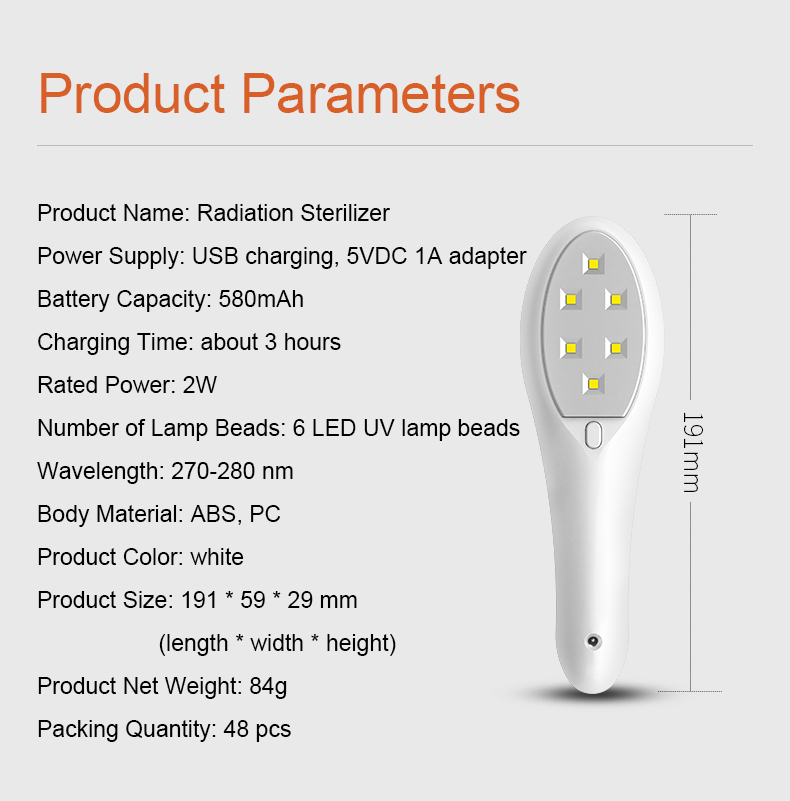 ---
Product Parameters

Parameters

Value / Unit

Power Supply

USB,5V DC 1A

Battery Capacity

580mAh

Charging Time

about 3 hours

Usage Time

50 mintues for 50 times sterilization

Input Voltage

5V

Rated Power

2W

Rated Voltage

3.7V

Number of Lamp Beads

6 LED UV lamp beads

Wavelength

270-280 nm

Power Switch

ouble-click the button to power on; click to power off

Main Material

ABS、PC

Accessories

Charging Cable, Manual

Product Color

White

Product Net Weight

84g

Product Gross Weight

170g

Product Size

191*59*29mm

Package Size

210*85.3*39.3mm

Packing Size

435*356*260mm

Packing Net Weight

8.2kg

Packing Gross Weight

9.0kg

Packing Quantity

48pcs