SlimmingIII+ Loss Weight RF Roller Vacuum Body Slimming & Shaping Beauty Equipment
Product Details
Specification
Before & After
Weight Loss Body Slimming & Shaping Fat Reduction Skin Tightening Machine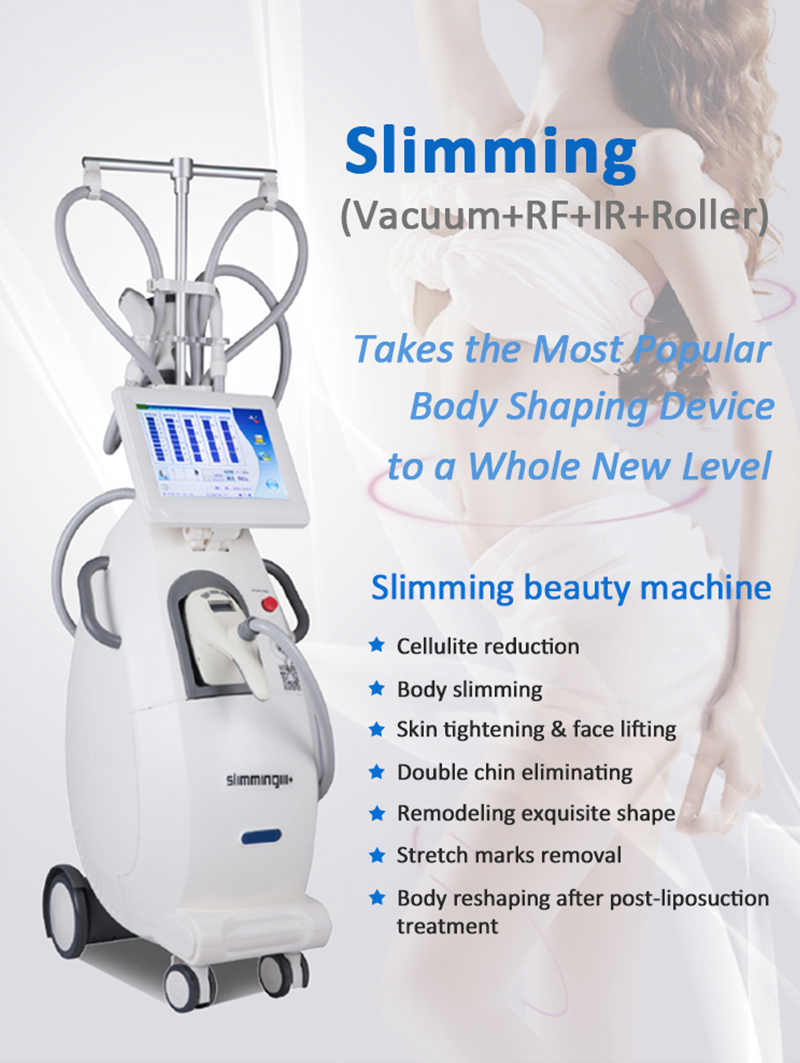 Treatment Theory
Combines the Mono-polar & Bi-polar Radio Frequency(RF), Infrared Light .Vacuum and Mechanical Roller. The precise  heating of RF ensures safe ,effective,fast treatment without downtime. Vacuum and specially designed rollers for the Mechanical Message smooth the skin to  facilitate safe and efficient heat energy delivery. It increases the metabolism of stored energy and lymphatic drainage and reduces or shrinks the size of the actual fat cells and fat chambers.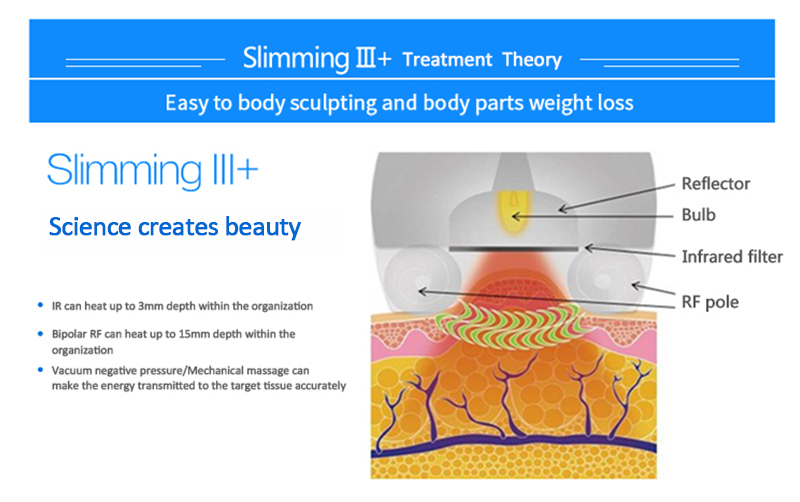 Application 
1.Belly/face/neck/arms/legs/haunch slimming                             
2.Stretch marks removal effectively                       
3.Body sculpting and skin tightening                                 
4.Tighten skin and increase skin elasticity                 
5.SPA/Increase blood vessel elasticity/Relive muscle tension/Promote blood circulation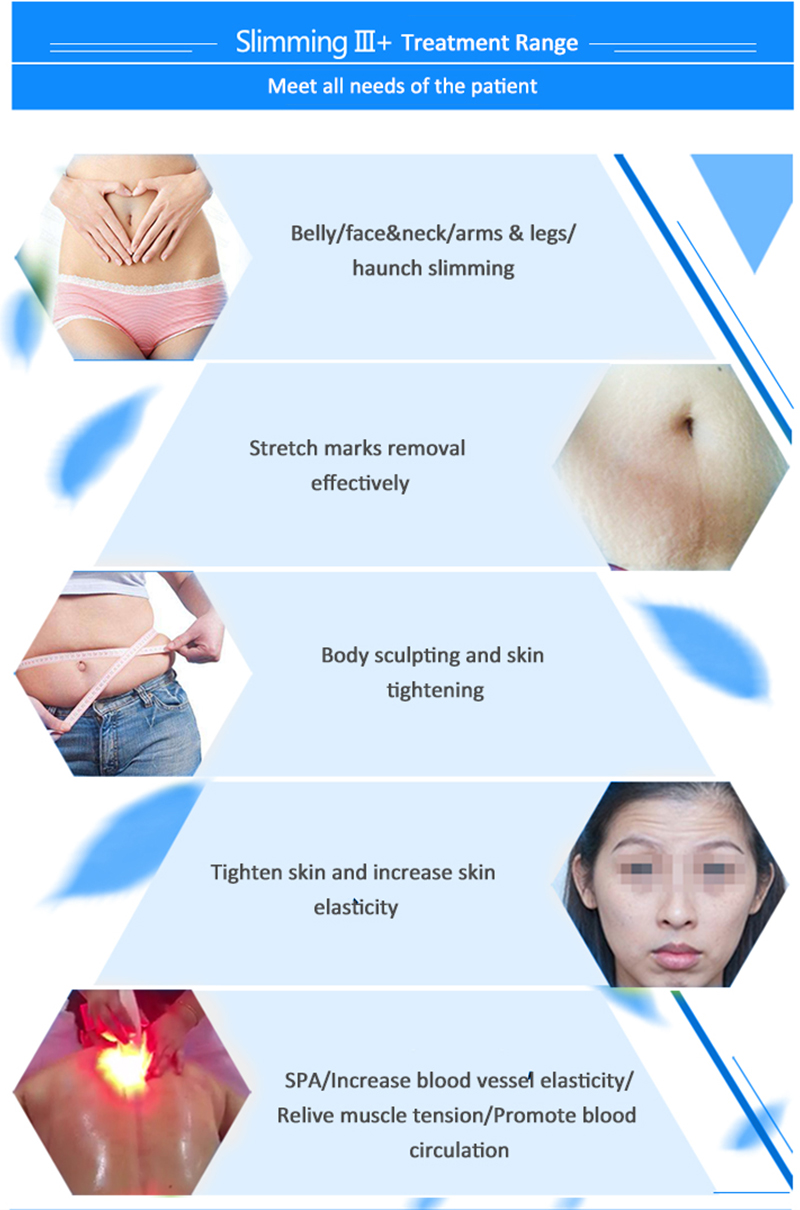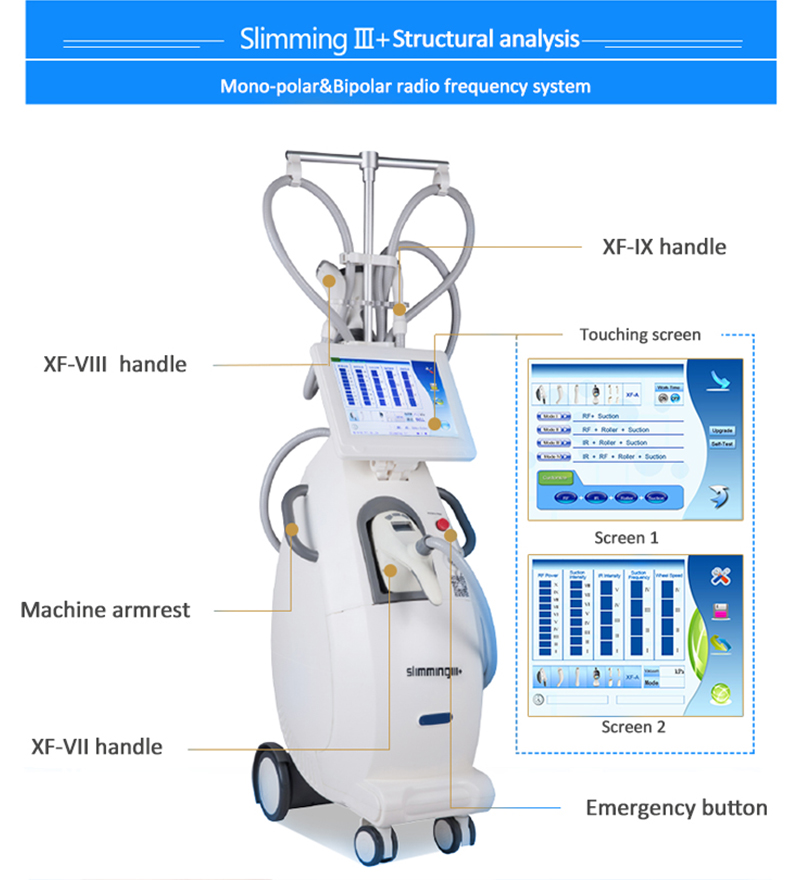 Features & Advantages

1.Special pump ensures more stable vacuum output,longer lifetime and less noise.         
2.The infrared light is professionally designed by PHILIPS with better effect of dissolving fat,therapeutic,collagen shrinkage and regeneration. 
3.Special design of detachable roller and inner filter is easy for cleaning.
4.Dual mono-polar RF hand pieces for fat dissolving are better than Bi-polar,which effectively avoids skin burning and blister.
5.Cooling RF(Bi-polar and Mono-polar) functions are optional.                   
6.Injection Module shell,exquisite appearance.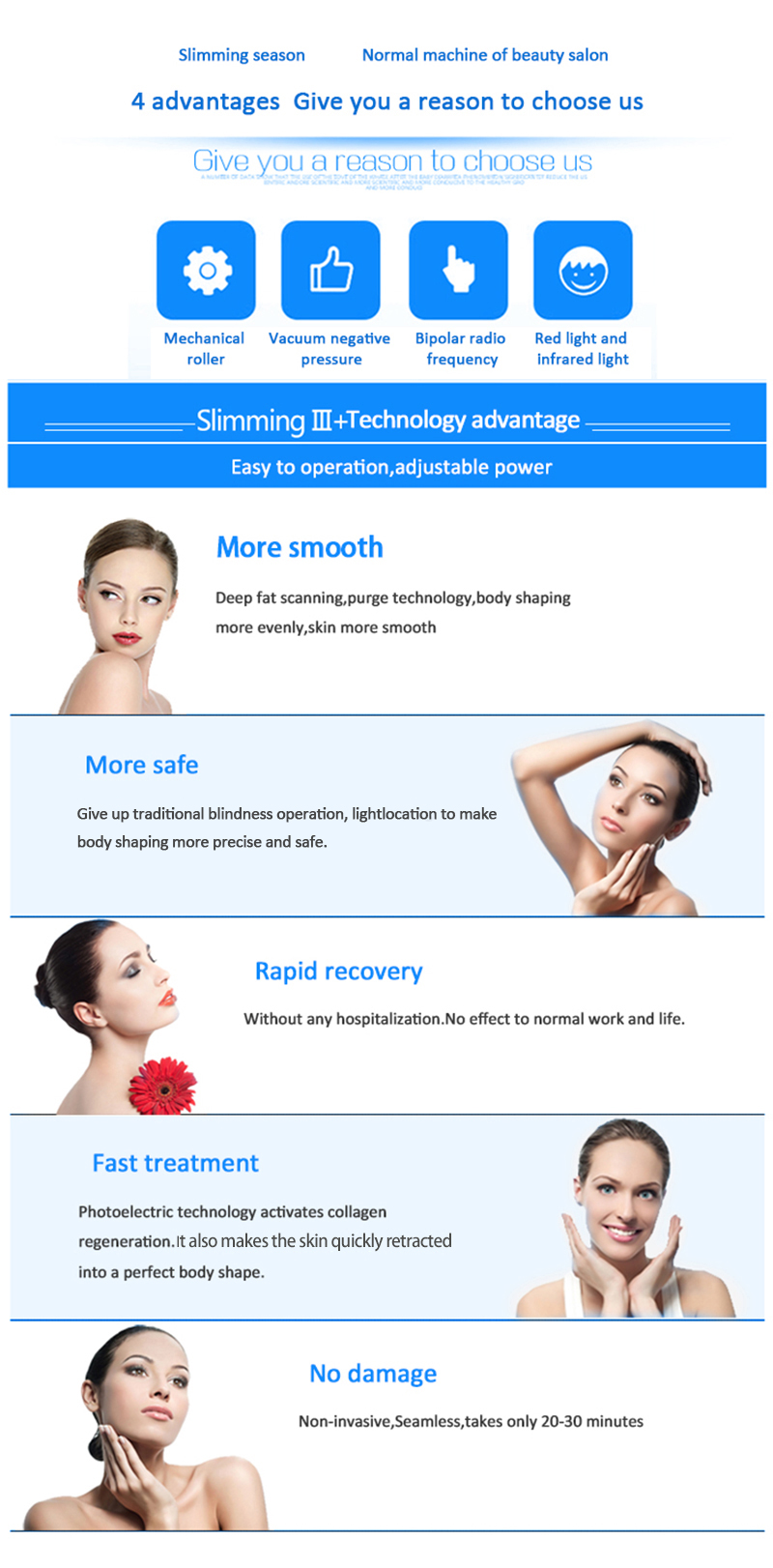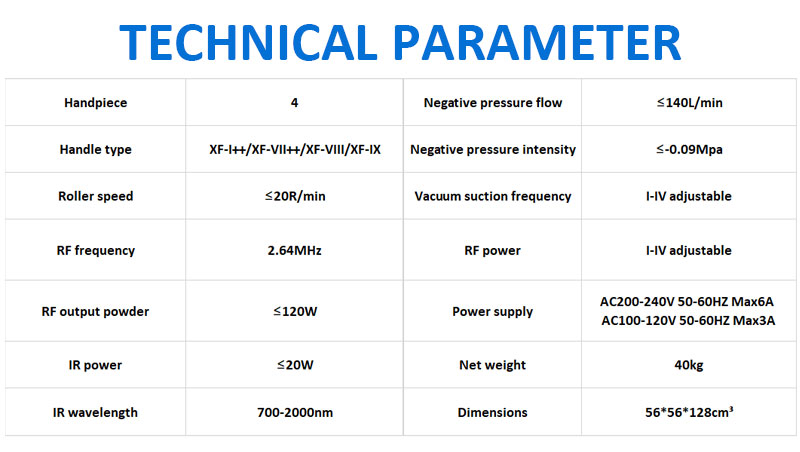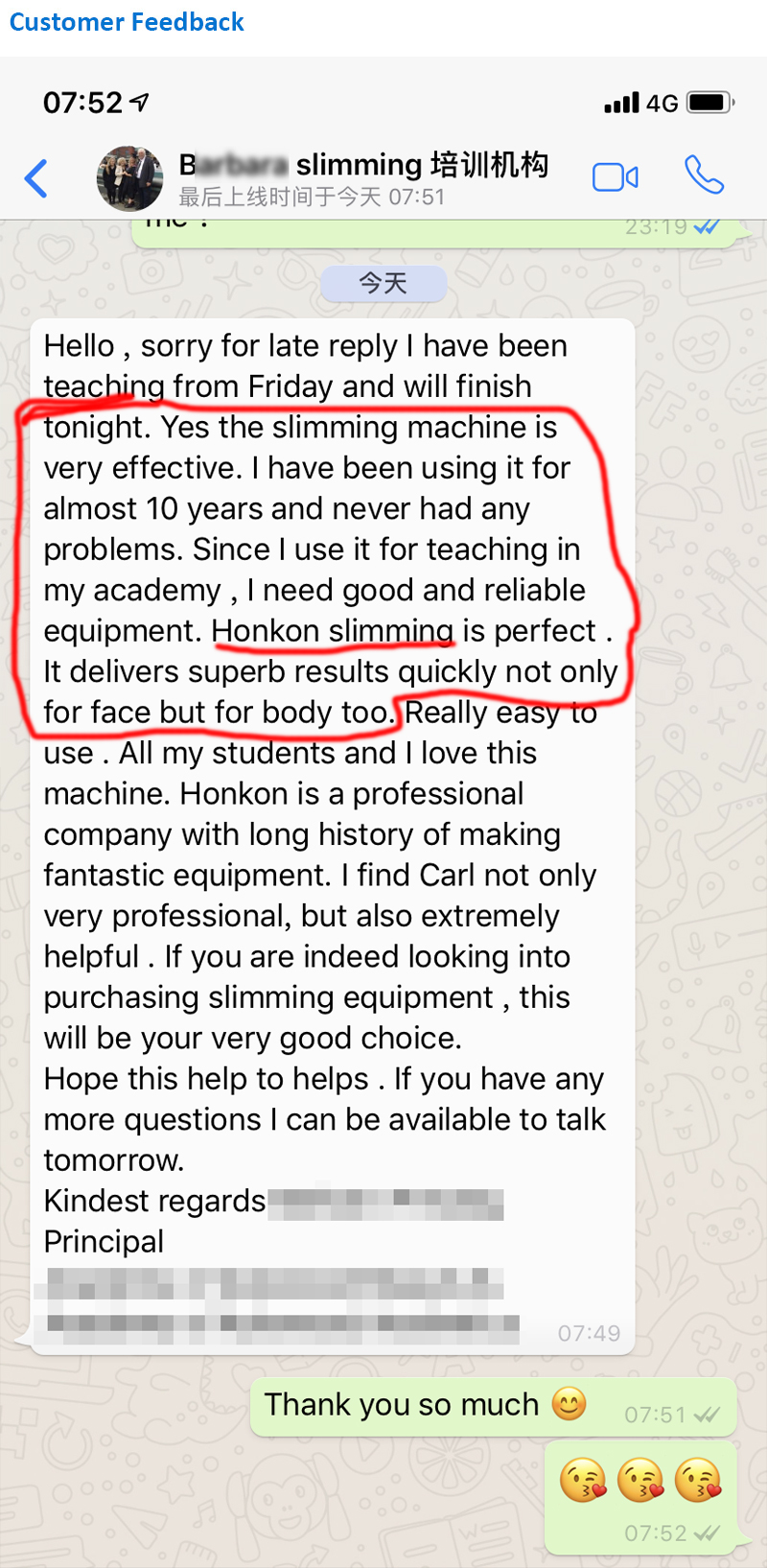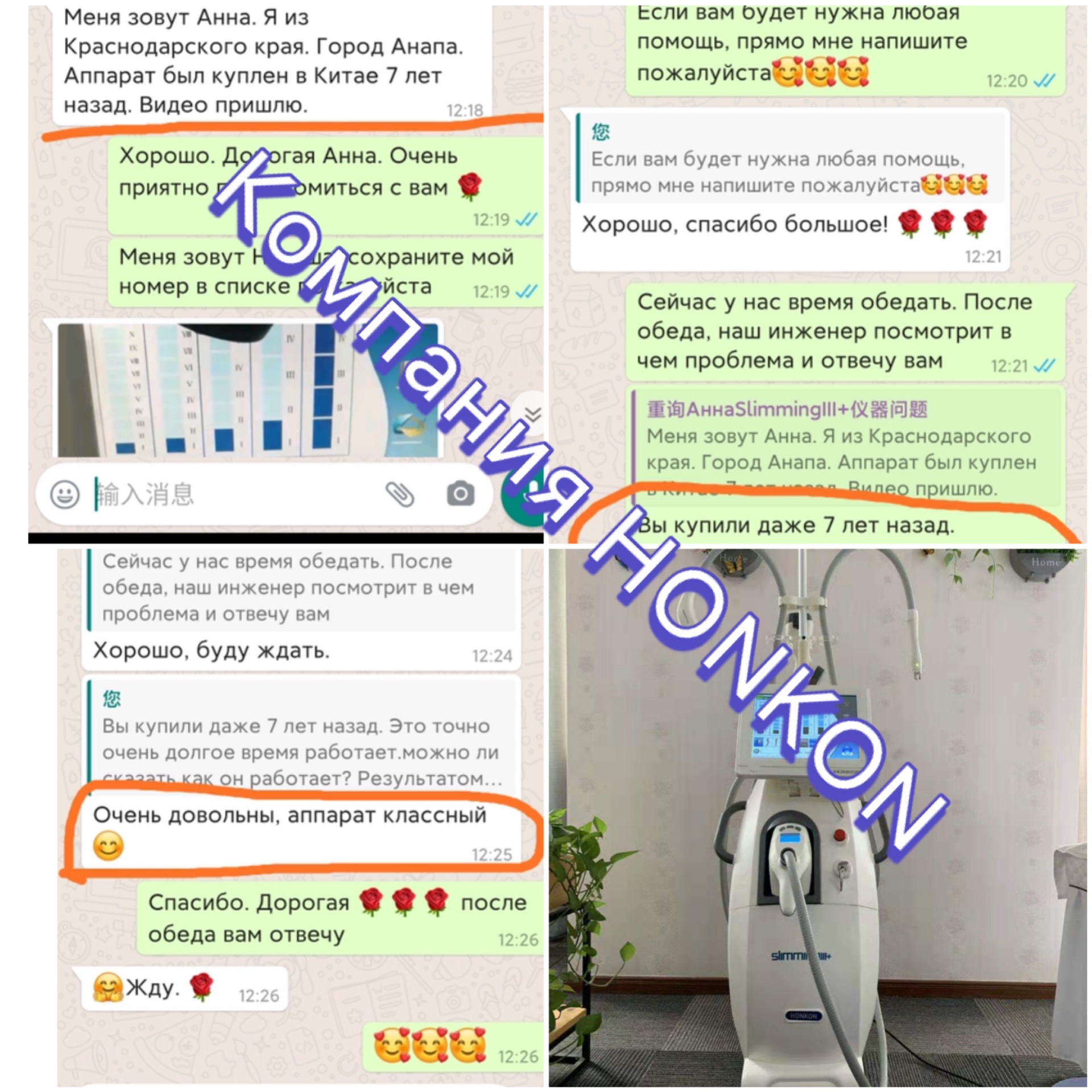 ---
Model name: slimmingIII+
| | |
| --- | --- |
| Handpiece | 4 |
| Handle type | XF-I++/XF-VII++/XF-VIII/XF-IX |
| Roller speed | ≤20R/min |
| RF frequency | 2.64MHz |
| RF output powder | ≤120W |
| IR power | ≤20W |
| IR wavelength | 700-2000nm |
| Negative pressure flow | ≤140L/min |
| Negative pressure intensity | ≤-0.09Mpa |
| Vacuum suction frequency | I-IV adjustable |
| RF power | I-IV adjustable |
| Power supply | AC200-240V 50-60HZ Max6A AC100-120V 50-60HZ Max3A |
| Gross weight | 50kg |
| Net weight | 40kg |
| Dimensions | 56*56*128cm³ |