SM10600KKlb Vaginal tightening 10600nm CO2 Fractional laser stretch mark/scar removal  anti-wrinkle skin resurfacing machine
Product Details
Specification
Before & After
Vaginal tightening 10600nm CO2 Fractional laser stretch mark/scar removal  anti-wrinkle skin resurfacing machine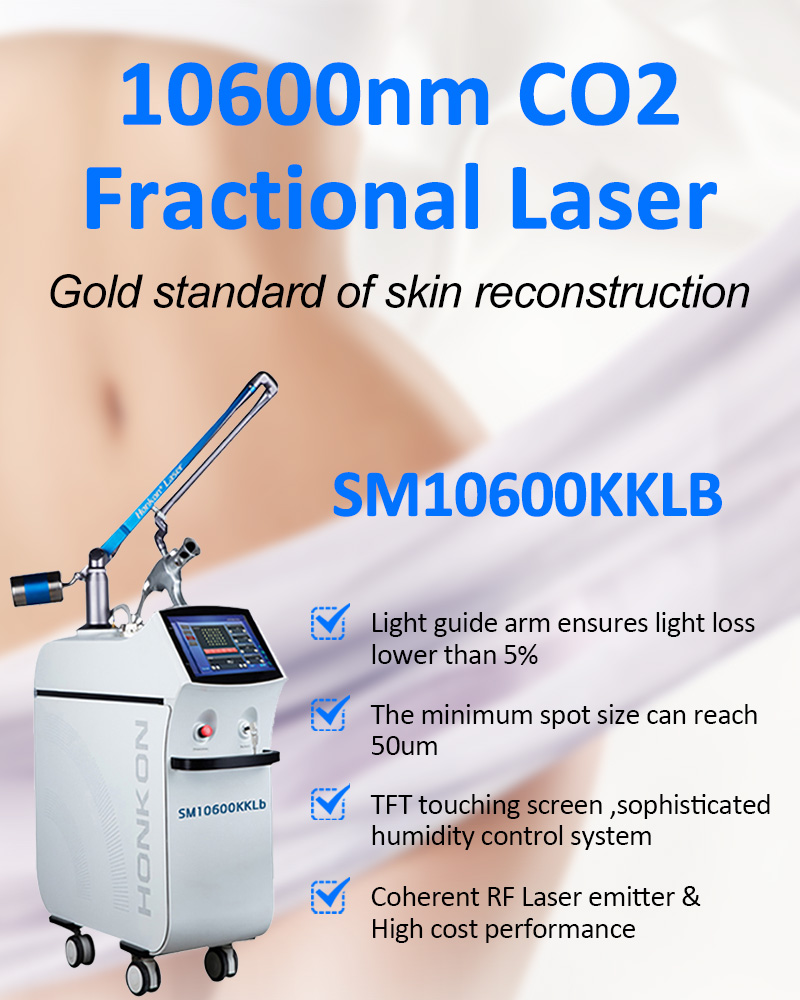 Treatment Theory
1. Skin Regeneration
Fractional laser penetrates skin and forms tiny thermal channels. This creates some ablative and thermal effect only on these channels(a micro-injury) without damaging the surrounding tissue. The tissues surrounding the micro-injuries(about 15-20% of the treatment area) start the healing process. As the collagen remodels, the skin is tightened, scars and pigmented lesions are improved as well.
2. Vaginal Tightening
10600nm CO2 laser acts on vagina mucosa and muscular tissue, generate extensive and regular thermal effect, get the instant tightening and lifting result. At the same time, It creates a large amount of extreme tiny peeling hole, which will improve the vagina lasting elasticity. These peeling channels will stimulate massive fibrocytes regeneration and youth the vagina. The patented comfort technology ensures non-invasive and safety, doctors and patients will choose the treatment instead of surgical method.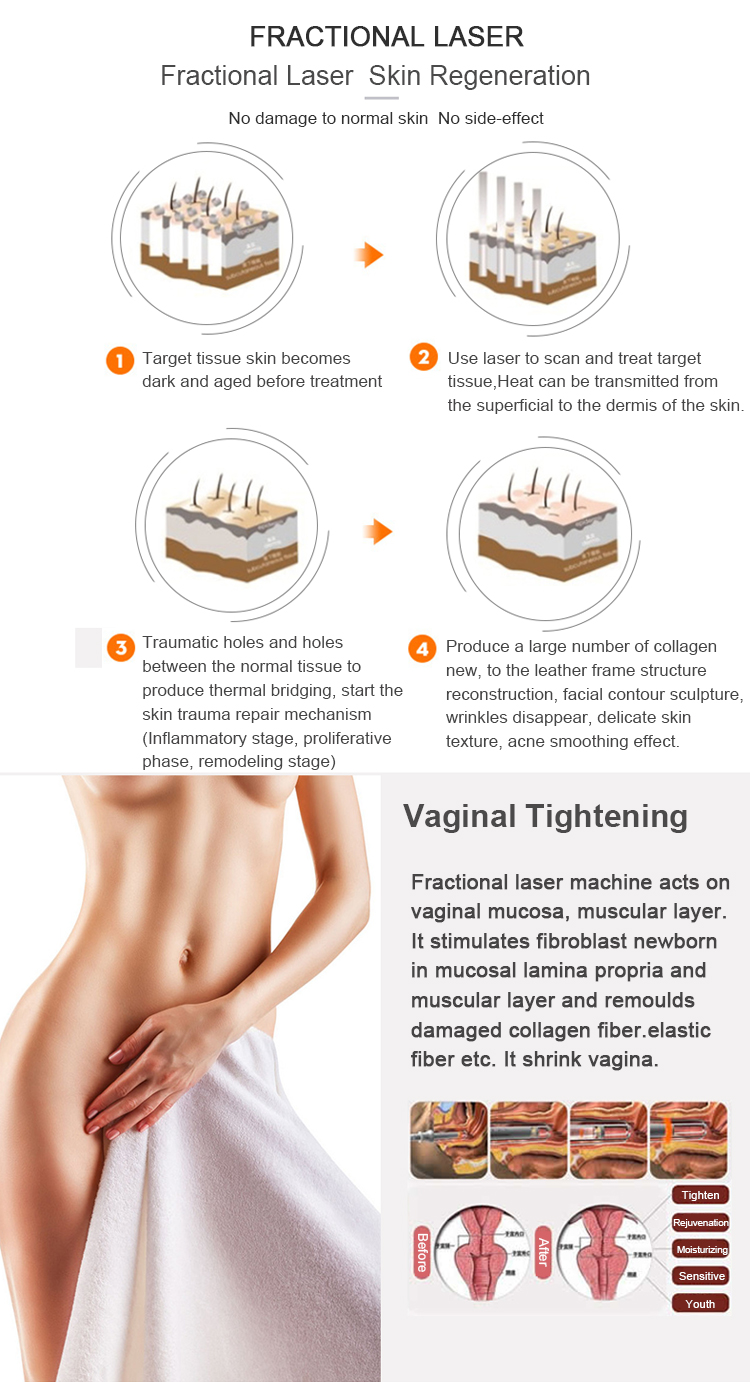 Application
1. Fractional Mode:
A. Large pores,fine lines ,skin tighening and whitening ,skin loosen,deep wrinkles,stretch marks ,striae;
B. Scars:superficial scar,hypertophic scar and keloid.Such as burnt scars,acne scars,surgical scars ect;
C. Pigmented lesions:Chloasma,freckles ,age spots ,sun spots ,Camls.
D. Reconstruction of photo-aging skin.
E. Melasma
2. CW and Ultra-Pulse Mode:
In cosmetic surgery,it can be adopted to incisions for Blepharoplasty,skin tags and ingrown nails,compound Nevus and intra dermal Nevus,plastic surgery,laparoscopy,gynecology,proctology,warts,xanthelasma and other epidermal nevi.
3. SM Mode:
Vagina Loosing ,Vulvar hypertrophy,Vulvar pigment lesions ,Vaginitis,Mild and Moderate level stress urinary incontinence ,Vagina Health Care.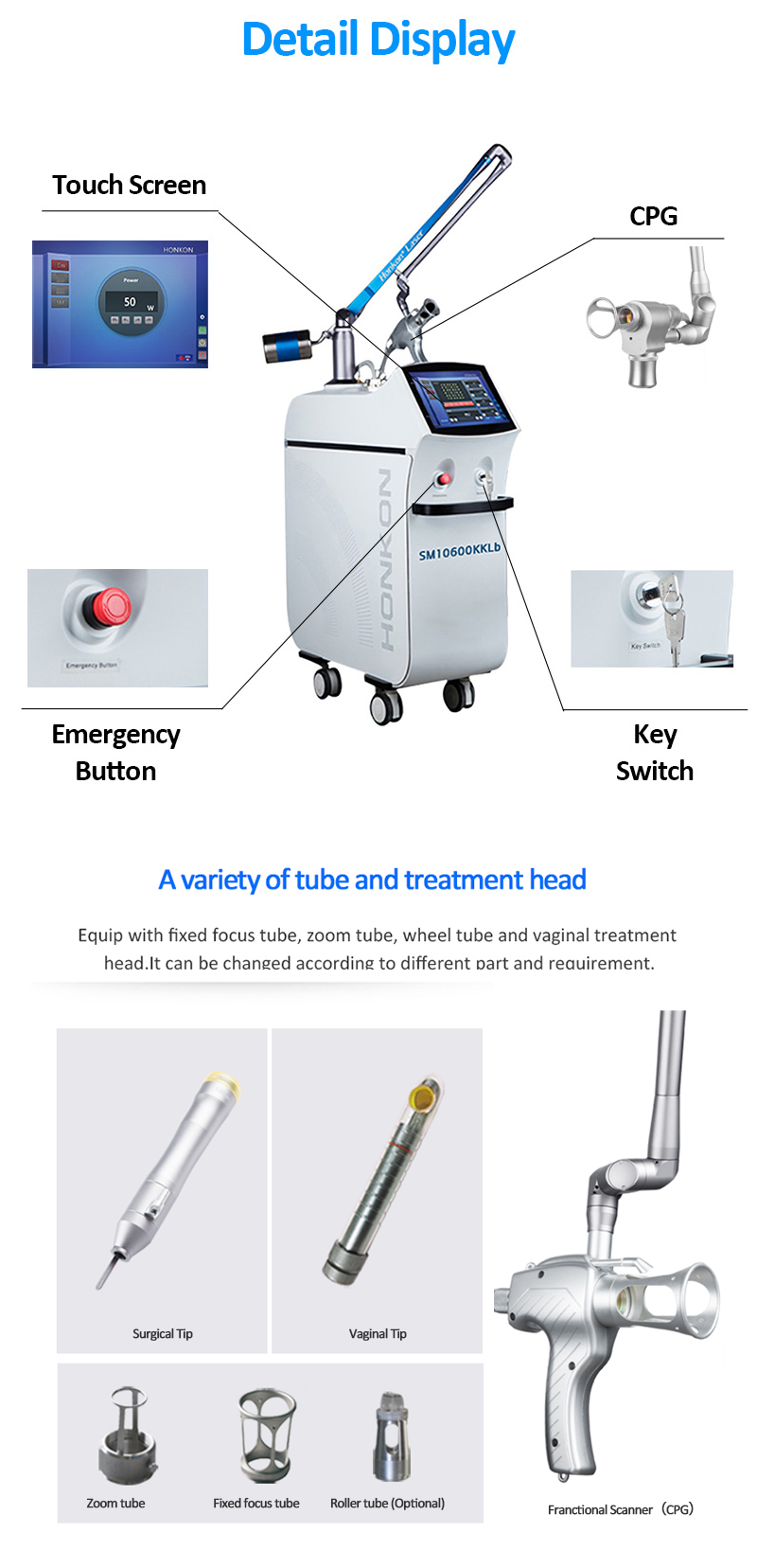 Features & Advantages
1. Adopted 30W high power CO2 laser generator, brings maximum results and minimum downtime.
2. 3 kinds of optics lens meet different area treatment requirements.
3. Adjustable focal spot lenses can be freely used for deep or shallow skin tissues.
4. Air cooling comes with the handpiece to reduces patient discomfort.
5. Well balanced articulated arm with45°positioning.
6. High power single pulse laser and extreme tiny light beam works on the vagina mucosa and muscular tissue, generate the most tissue reconstruction.
7. Elegant design preferred to aesthetic centers and clinics.
8. Excellent ventilation ensures long-time and sufficient running of machine.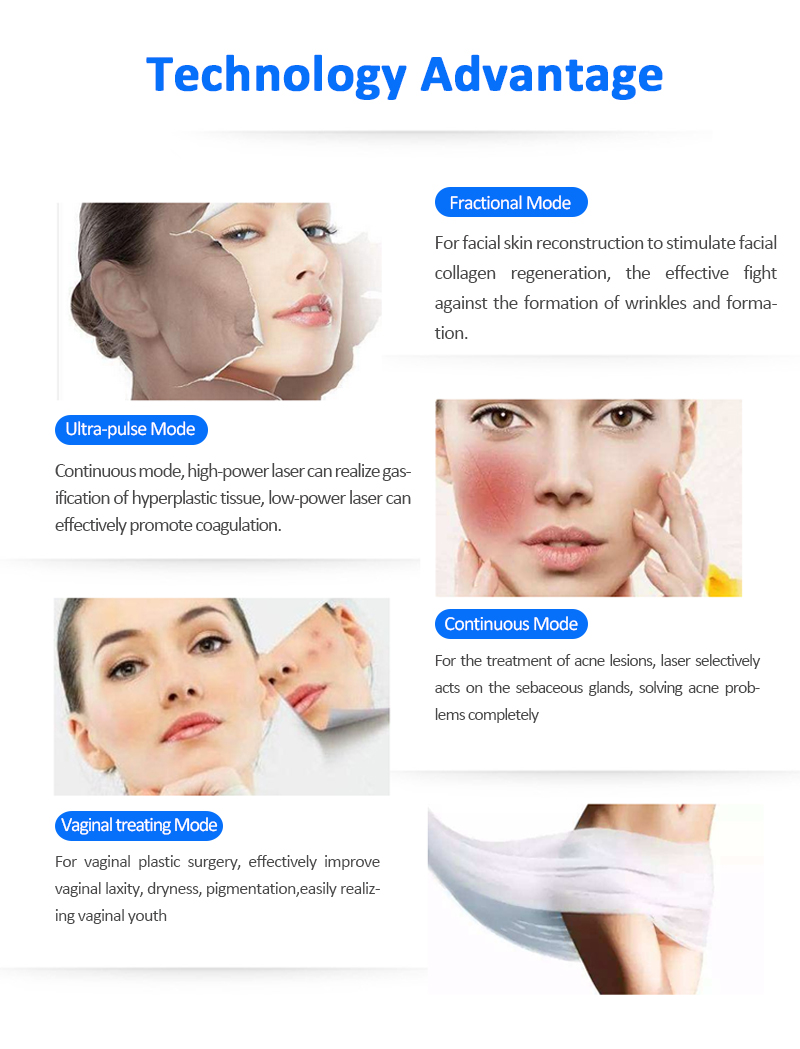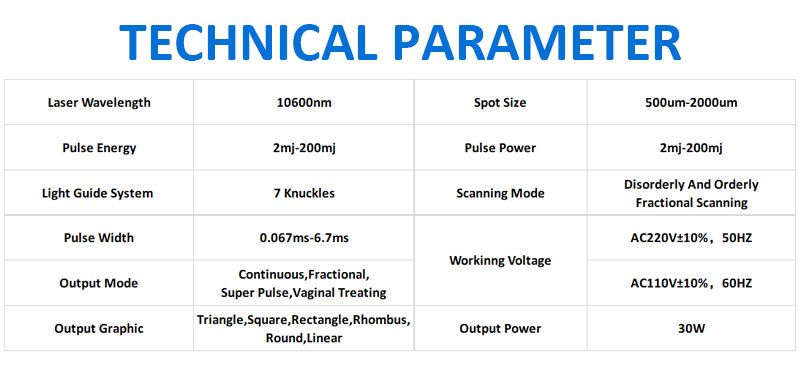 ---
Model name : SM10600KKlb
Machine Type

SM10600KKLB

Spot Size

500um-2000um

Laser Wavelength

10600nm

Pulse Power

2mj-200mj

Pulse Energy

2mj-200mj

Scanning Mode

Disorderly And Orderly




Fractional Scanning

Light Guide System

7 Knuckles

Workinng Voltage

AC220V±10%,50HZ

Pulse Width

0.067ms-6.7ms

AC110V±10%,60HZ

Output Mode

Continuous,Fractional,Super Pulse,Vaginal Treating

Output Power

30W

Output Graphic

Triangle,Square,Rectangle,Rhombus,Round,Linear

Dimensions

73*47*110cm³