TC-20PLUS Latest Design Six-Spectrum Magic Mirror Skin Analyzer Built-In High Performance Computer
Product Details
Specification
Before & After
TC-20PLUS Latest Design Six-Spectrum Magic Mirror Skin Analyzer Built-In High Performance Computer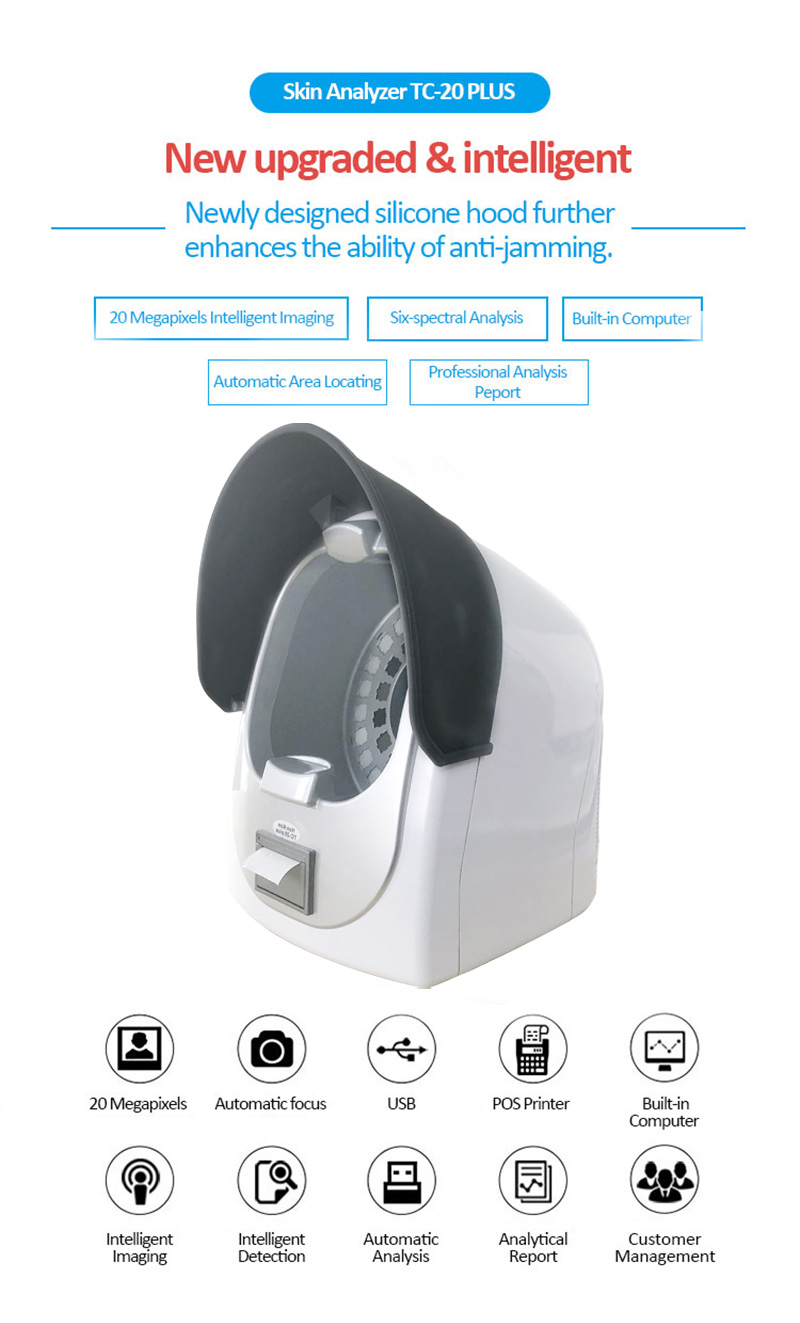 Treatment Theory
The latest upgraded version of facial skin test, HONKON skin analyzer system works at six spectral analysis of RGB/UV/PL/Red/Brown/Dark spot(RBD) to analyze accurately in pores, sebum, wrinkles, pigmentation, test moisture and elasticity.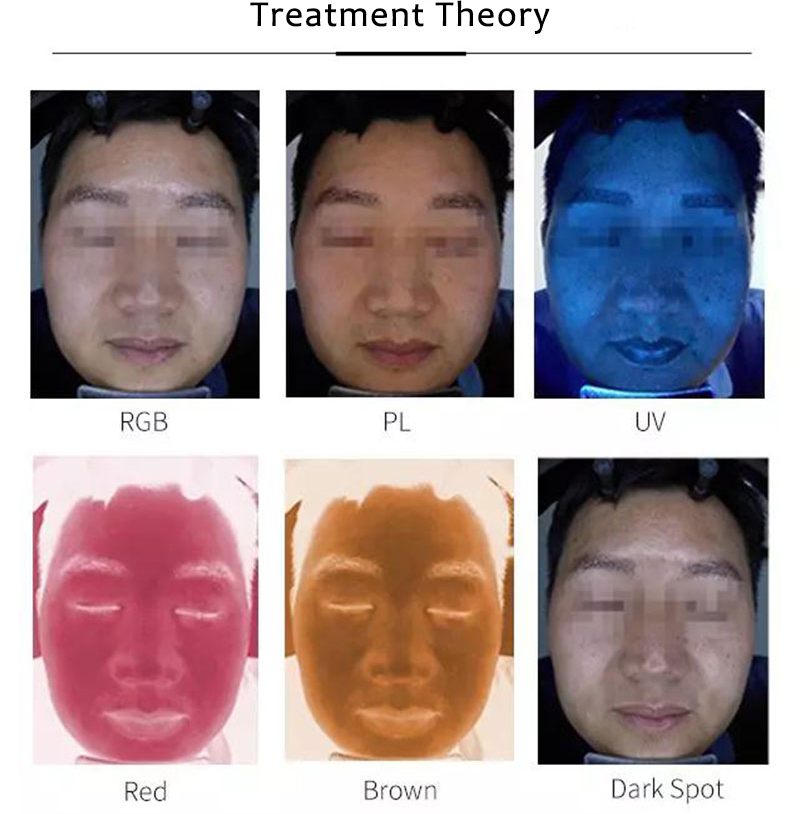 Application
Analyze facial skin conditions:
RGB Moisture/ Pores/Wrinkle;
PLRoughness/Spots/ sensitivity;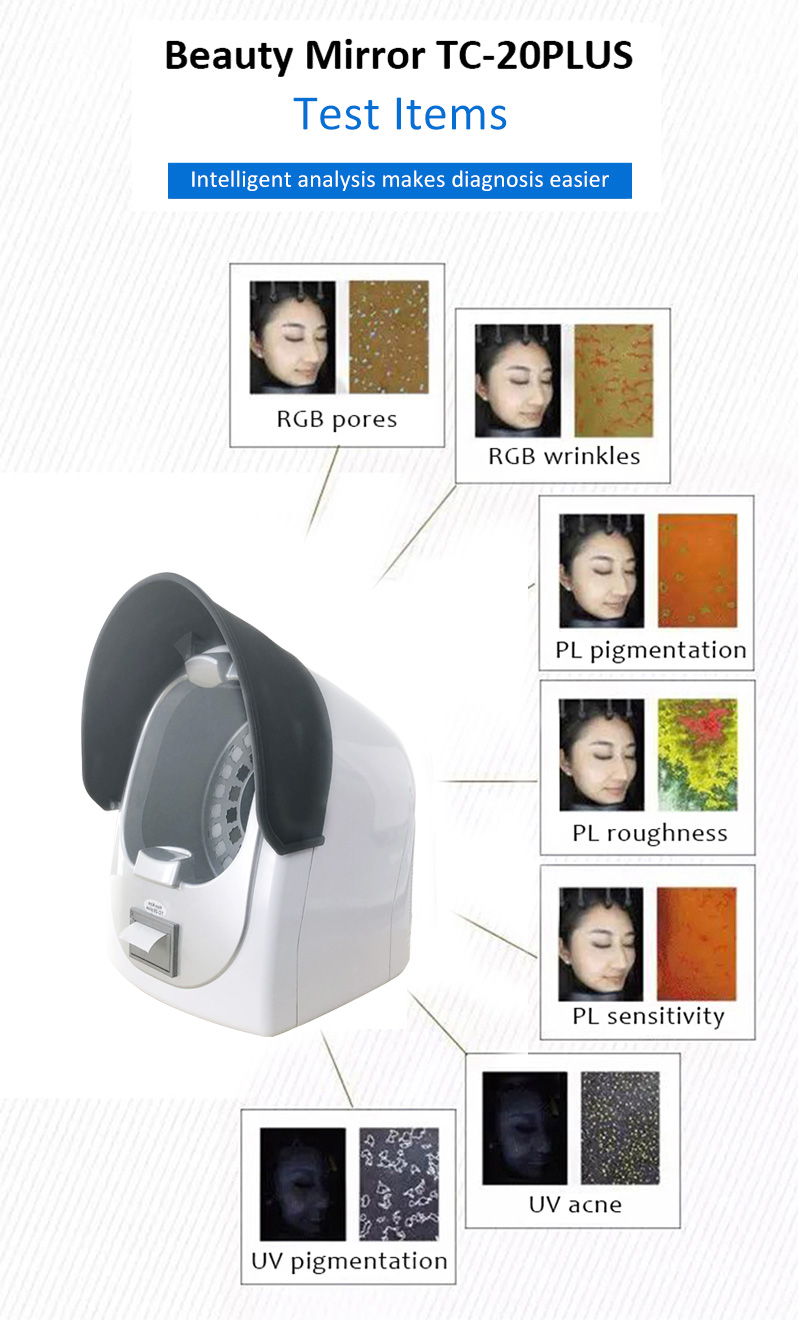 Features
RGB ( with Red, Green, and Blue color)
1. Red finds out the pigmentation location on epidermis andquantity of the pigmentaion.
2. Green finds out the moisture condition of the skin.
3. Blue gives out the acne posibilities.
UV( Ultra Violet):
For dermis pigmentation detection.
This test can give your clients a clear idea about the possibity to get some pigmentation in the following years.
Advantages
1. The whole design of LED lighting enables the machine's life span better than the traditional flash light, so does the image quality.
2. The 20 Megapixels high-performance beauty mirror camera will further guarantee the high quality images.
3. AI intelligent voice control ability that truly have intellectual property
4. Unique UV+PL light and shaded mirror design ensures no shadow and dark on the  face
5. The newly designed silicone hood further enhances the anti-interference ability
6. Built-in high-performance computer for plug-and-play convenience and support for HDTV output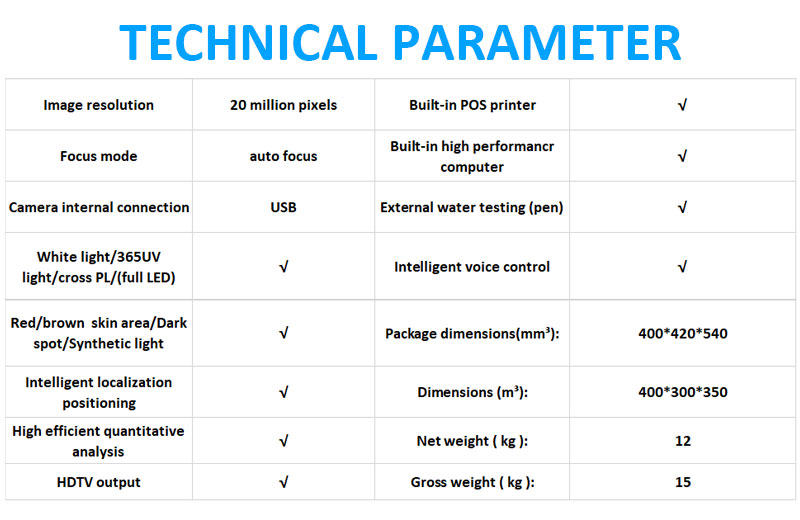 ---
Model name: TC-20PLUS
| | |
| --- | --- |
| Image resolution | 20million pixels |
| Focus mode | auto focus |
| Camera internal connection | USB |
| White light/365UV light/cross PL/( full LED ) | √ |
| Red skin area/brown skin area/Dark spots/Synthetic light | √ |
| Intelligent localization positioning | √ |
| High efficient quantitative analysis | √ |
| HDTV output | √ |
| Built-in POS printer | √ |
| Built-in high performance computer | √ |
| External water testing ( pen ) | √ |
| Intelligent voice control | 3rd quarter,2018 |
| Package Dimensions(mm³) | 400mm*420mm*540mm |
| Dimensions (mm³) | 400mm*300mm*350mm |
| Gross weight ( kg ) | 15kg |
| Net weight ( kg ) | 12kg |
Compare(Before & After skin care)