V16 Portable Q-Switched Nd Yag Laser Pigment Lesions & Tattoo Removal Machine
Product Details
Specification
Before & After
V16 Portable Q- Switched Nd Yag Laser Pigment lesions & Tattoo Removal Machine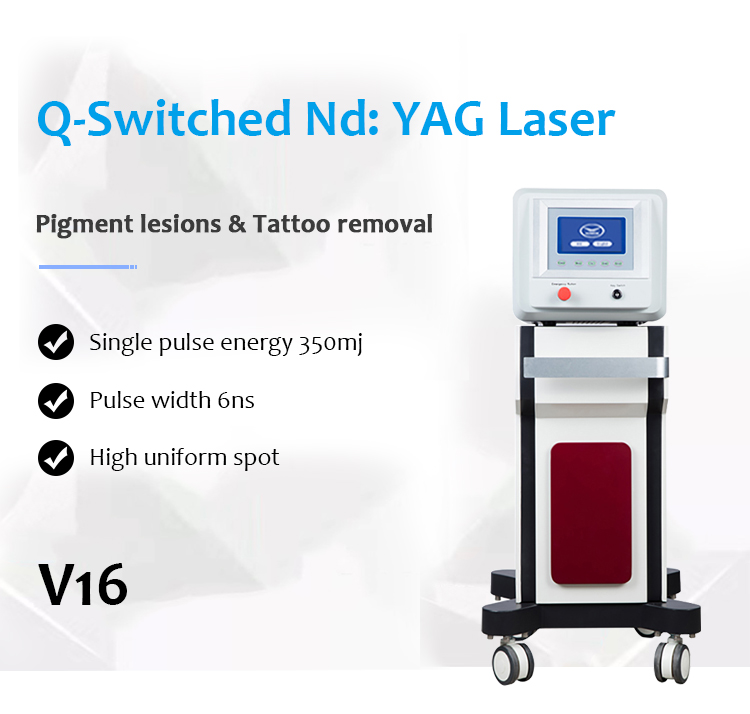 Treatment Theory
The Q-switched Nd: YAG laser radiates the light with a specific wavelength in high peak energy pulses, hence the light penetrates into the tissue only for a nanosecond. The light is absorbed by the pigmentation and results in an instantaneous blast, that is Light blasting principle. The pigmentation particles are shattered into fragments, some can be bounced out of the skin and others can be split into tiny particles that can be engulfed by phagocytes and then eliminated by the lymphatic system.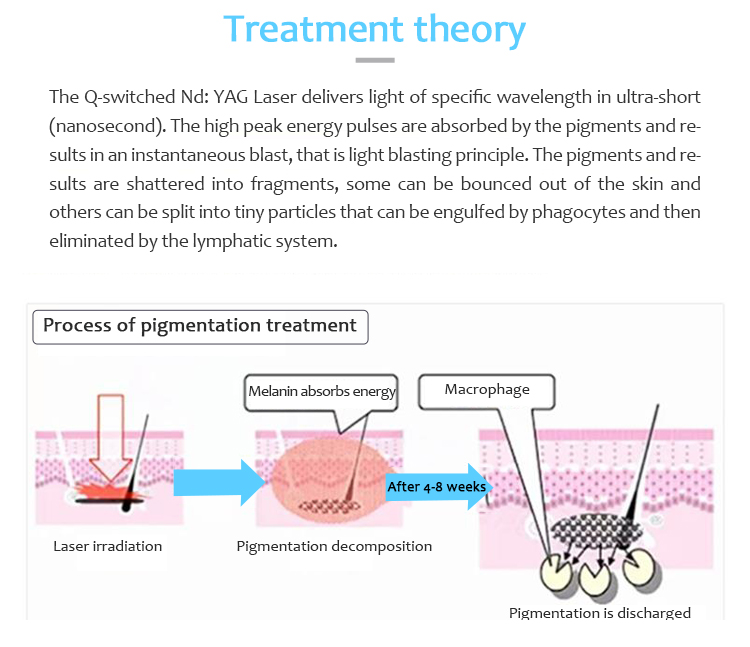 Application
1. Choasma
2. Age spot
3. Nevus of Ota
4. Freckle
5. Spotted nevus
6. Tatto
7. Brown and cyanine nevus of Zygomatic
8. Melanosis
9. Coffee spot
10. Seborrheic keratosis
11. Pigmentation after inflammation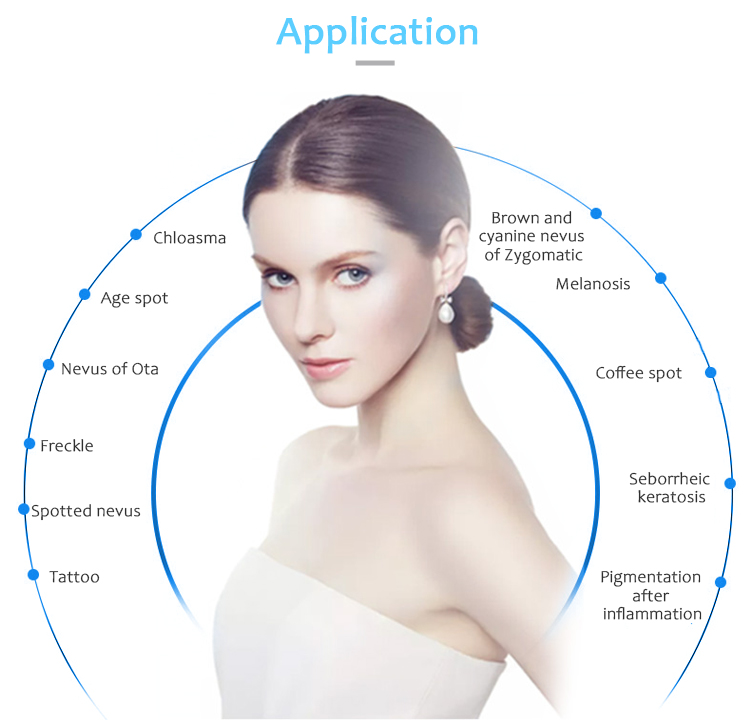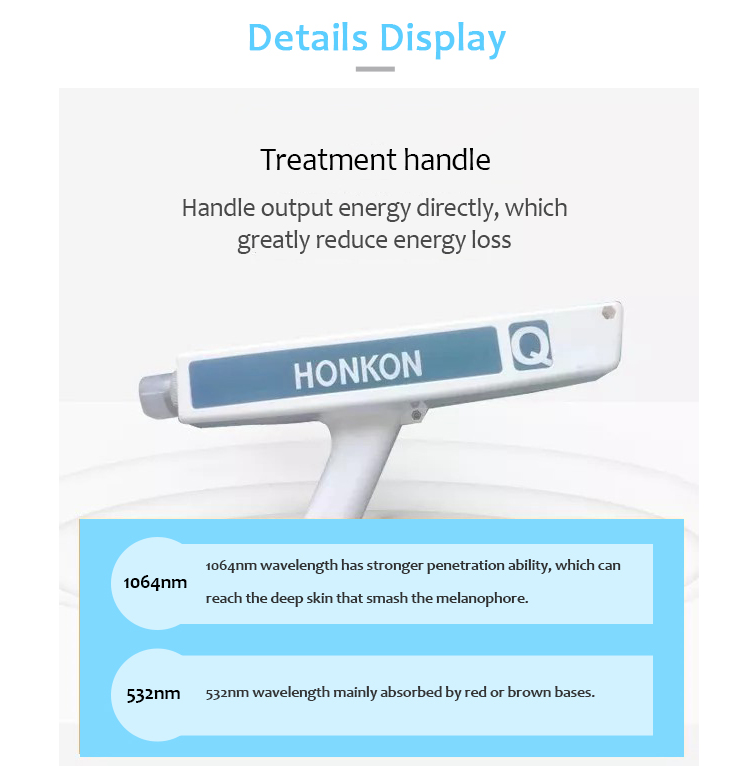 Features & Advantages
1. High cost effective handheld Q-Switched Nd: YAG laser machine.
2. High uniform spot mode ensures better treatment. All energy is evenly distributed on the skin, which greatly reduce the epidermal damage.
3. With single pulse energy 350mh & multi-pulse energy 50-600mj adjustable, the machine has better treatment result for various pigment lesions.
4. With 1064nm & 532nm wavelength, the treatment will be safer and more efficient.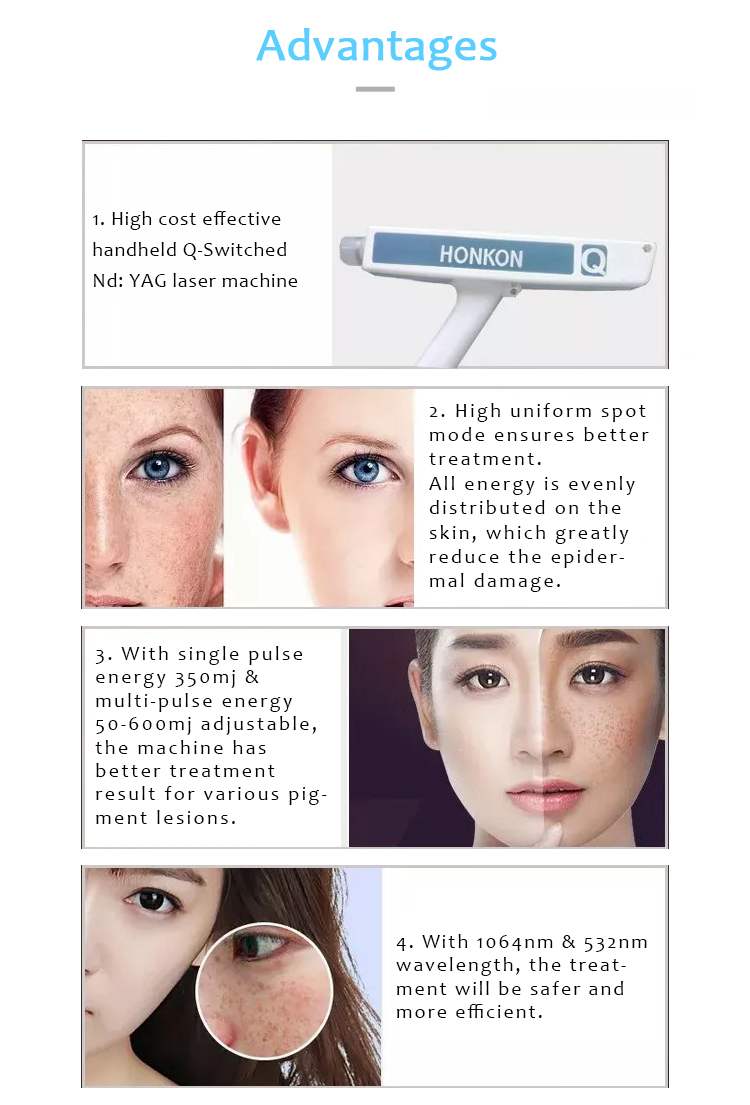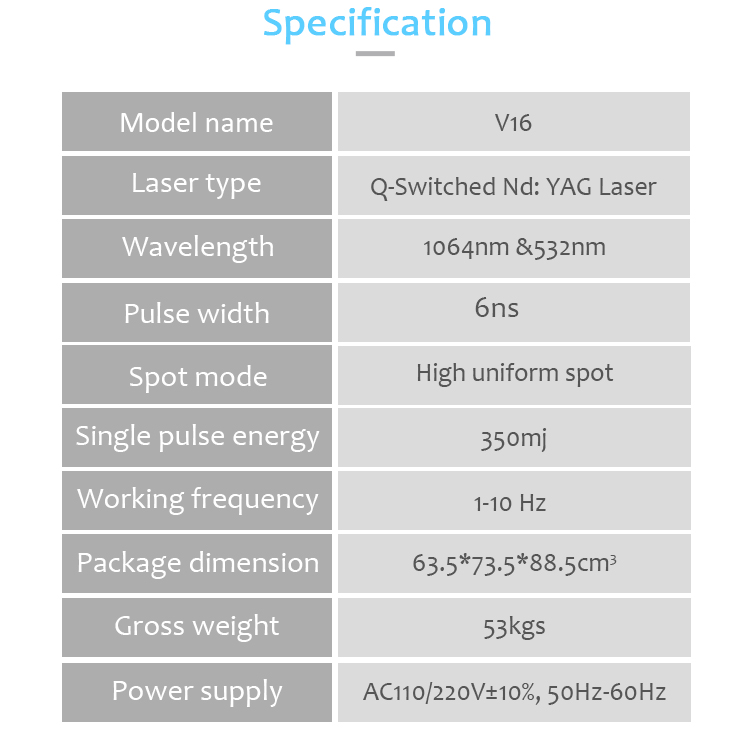 ---
 Model name : V16

| | |
| --- | --- |
| Laser type | Q-Switched ND: YAG Laser |
| Wavelength | 1064nm & 532nm |
| Pulse width | 6ns |
| Spot mode | High uniform spot |
| Single pulse energy | 350mj |
| Working frequency | 1-10Hz |
| Package dimension | 63.5*73.5*88.5cm³ |
| Gross weight | 53kgs |
| Power supply | AC110/220v±10%,50Hz-60Hz |