ZS02 Beauty Spa Skin Whitening And Acne Removal Mesogun Vital Injector
Product Details
Specification
Before & After
Beauty Spa Skin Whitening And Acne Removal Hydra Facial Skin Tightening Wrinkle Removal Mesogun Vital Injector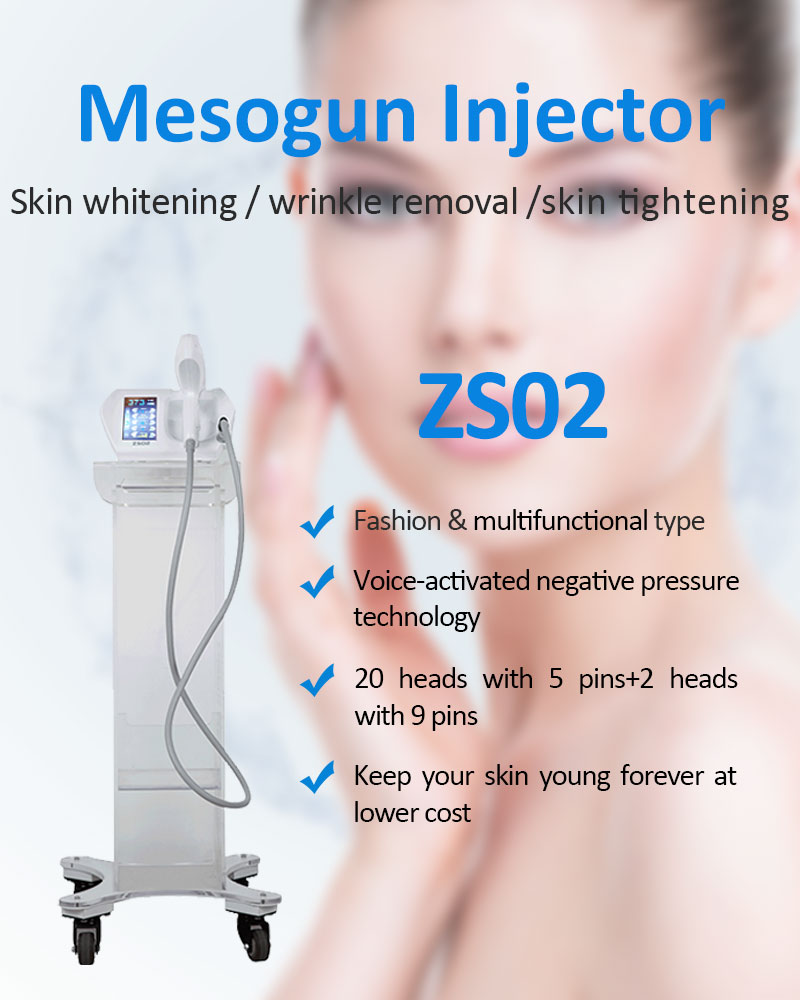 Treatment Theory
Before the needle go beneath the skin, vacuum technology is adopted to suck up skin, the skin is
tighten and then the needle go into accurate depth of skin with nutrition. Injection depth, speed, dose and vacuum intensity are adjustable.
Applications
1. Forehead, temple, periorbital, perioral and cheek photoaging;
2. Cheek and lip augmentation;
3. Atrophic scar improvement;
4. Pore refiner and neck wrinkle improvement;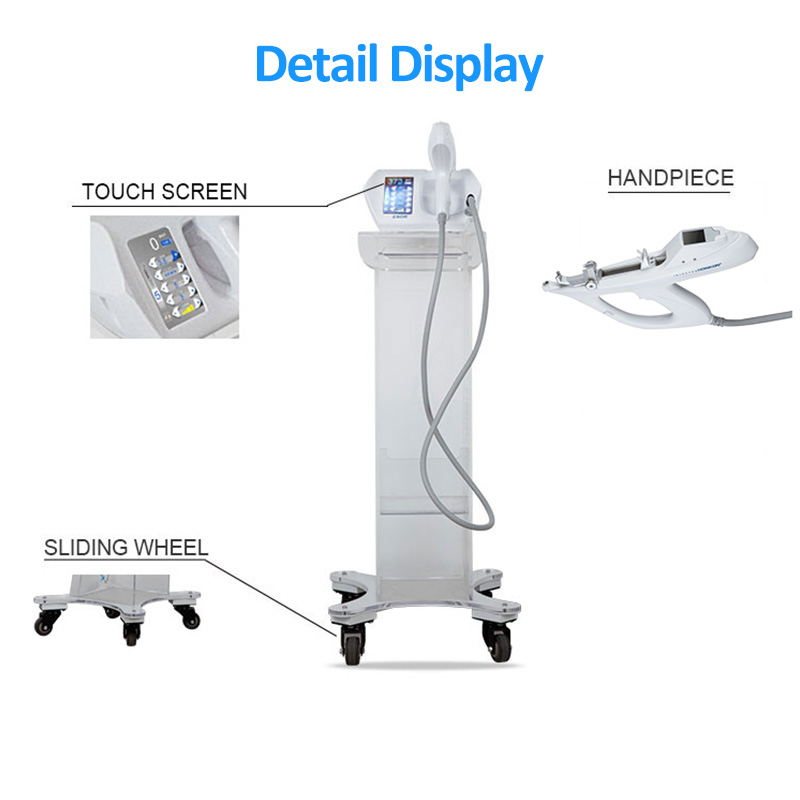 Features & Advantages
1. Quick reshape the face, reduce double chin, nasolabial fat, nasolabial folds, to tighten the facial contour and end bag face, easily create the most photogenic little face;
2. Dispel forehead wrinkles, pattern, nasolabial folc,neck wrinkles;
3. Eliminate and improve the eye pattern, crow's feet, dark circles, eyes belly. Just give you charming eyes; Improve and prevent skin aging, narrow coarse pores, whitening skin, deep pay, anti-allergy repair,make the skin elastic;
4. Repair tip of the nose: tip of the nose is the symbol of femininity;
5. Reducing scapular hypertrophy; reshape upper arm, back, waist, abdomen, buttocks, thigh, improve hyperhidrosis, cellulite.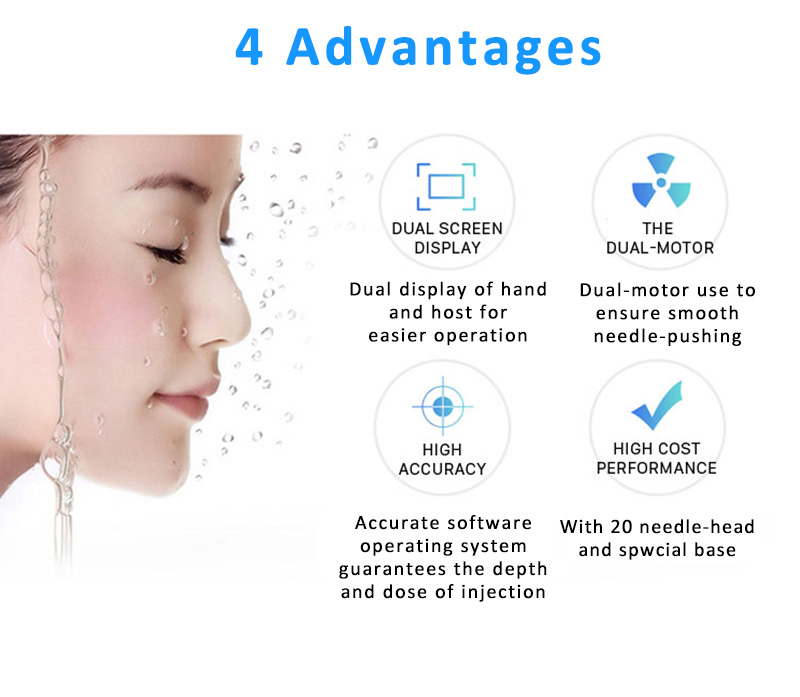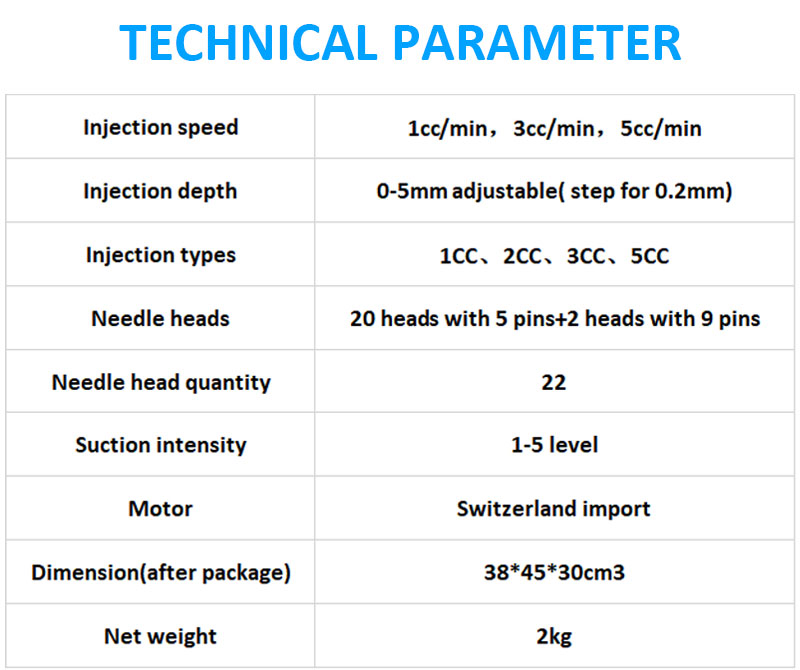 ---
Model name : ZS02
| | |
| --- | --- |
| Injection speed | 1cc/min,3cc/min,5cc/min |
| Injection depth | 0-5mm adjustable( step for 0.2mm) |
| Injection types | 1CC、2CC、3CC、5CC |
| Needle heads | 20 heads with 5 pins+2 heads with 9 pins |
| Needle head quantity | 22 |
| Suction intensity | 1-5 level |
| Motor | Switzerland import |
| Dimension(after package) | 38*45*30cm3 |
| Net weight | 2kg |