Demasa-Ⅲ Mesotherapy Gun 9 Pins Needles Water Injection Meso Gun
Product Details
Specification
Before & After
Demasa-Ⅲ Mesotherapy Gun 9 Pins Needles Water Injection Meso Gun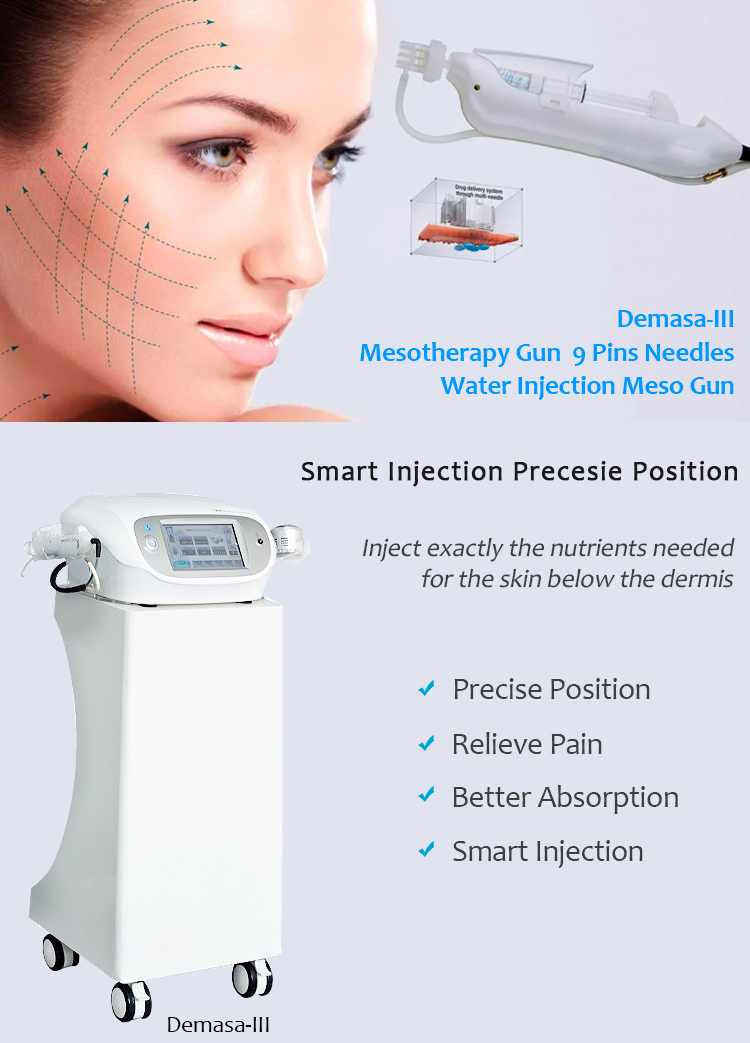 Treatment Theory
Demasa 3rd generation water injection system in South Korea is a nine-pin supplementary injections of high-end high-tech beauty equipment, using negative pressure technique can accurately in the Dermal Layer of skin under the 1.28mm depth of nutrients, the greatest degree of satisfaction of the customers "changes" cosmetic needs, has a very broad market space.
1. The principle of water injection project
South Korea's newly developed Demasa 3rd generation water injection device using negative pressure technique can accurately in the Dermal layer of skin under the 1.28mm depth of nutri-ents, micro-needle into the skin before using negative pressure apparatus to mention the skin, then needle more accurately into the deep Dermal. Dose injection frequency can be adjusted on the LED screen. In addition, the needles before they release the pressure on the syringe, so there will be no loss of nutrients.
2. Mesotherapy injection light is known as the most secure and reliable high tech
a. The first has the first international patent technique;
b. Dermal absorption of nutrients should be added up to 98.3%, 68.3% higher than the traditional complementary therapies;
c. Additional depth control accuracy amount up to 0.01CC up to 0.1mm and dose control, is the high-tech beauty beauty equipment of injection instrument is most accurate;
d. Injection is simple and convenient.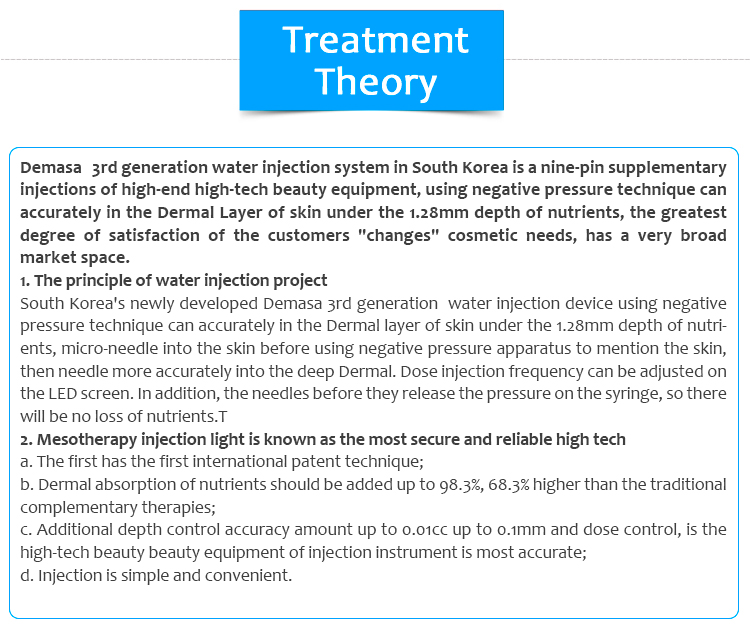 Applications
No leakage
Quick operation
Intelligent injection
Painless
Better absorption
Skin moisturize
Demasa-IlI 3rd generations
9 Pins Screw suctions Multi-needle
7 injections (1ml ,1.5ml,2ml,2.5ml,3ml,4ml,5ml)
4 models (Auto Sensing ,Continuous, Auto-Dose, Dose )
7-inch touch screen;
Skin dark and rough, dry skin, pigmentation
1. Improving face, neck, hands wrinkled (wrinkles, nasolabial and other sensitive areas,smaller stimulus);
2. Whitening to improve dull skin; effective complement to cheek, neck, chest, hands, lips and other parts need water;
3. Pores, increases elasticity, firming the skin;
4. Adequate pay, keep your skin moist and soft, shiny, more youthful permeability;
5. Fade spots, improve acne, effective on freckles, dark circles, acne, large pores and improve skin inflammation.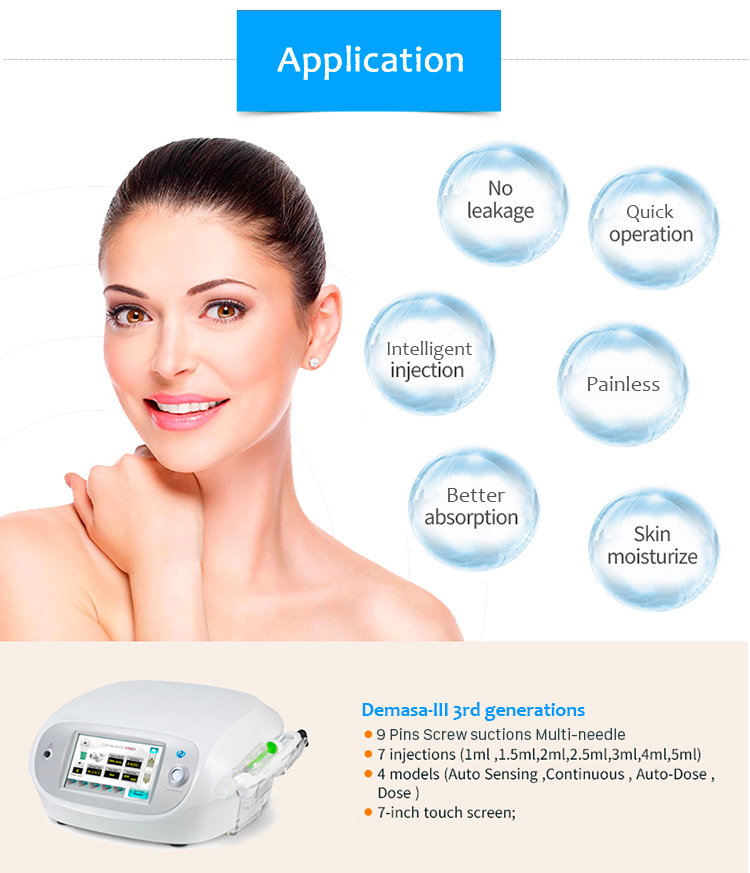 Details Display
Microneedle RF
The instantaneous arrival of radio energy in the dermis. Released from the tip of the "golden microneedle", directly inject energy into the dermis, at the same time avoid traditional electric waves in energy the problem of chaos after entering the skin. The most precise treatment through the microneedle stimulation brings natural healing to the skin process and growth factorinducing cells produce.
Hot and cold hammer
Cold hammer: effectively reduce the surface temperature of the skin, shrink pores, reduce inflammation, eliminate redness and reduce postoperative pain effcacy heat Hot hammer: promotes skin absorption of the product, effectively removes edema and accelerates blood circulate, tightening the skin.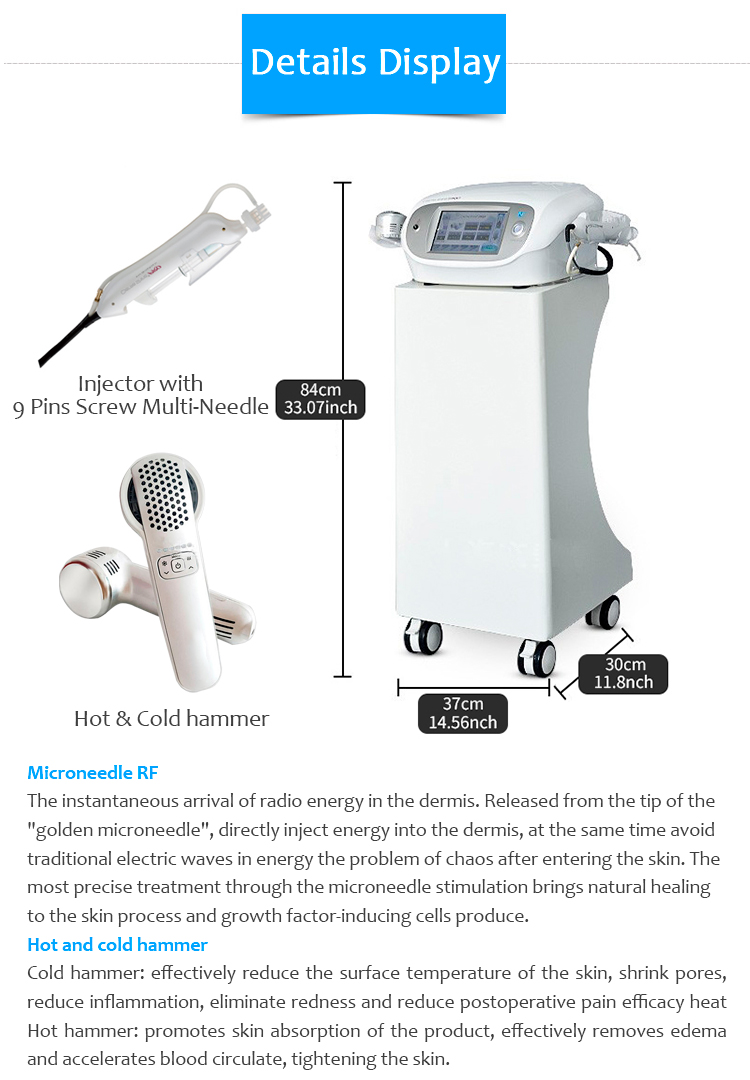 Features & Advantages
①Non-surgical beauty treatments
②Short time (whole face: 15-20 minutes)
③The use of needles and automation equipment
④Beauty treatments just after a slight redness may soon get back to daily life
⑤In the dermal layer of the skin effect
⑥The use of negative pressure meter lift skin
⑦Skin nutrients into accurate
⑧Can be accurately adjusted depth of injection
⑨Instrument adjustment can be made simply on the LED screen
⑩Pain slight – 32G needles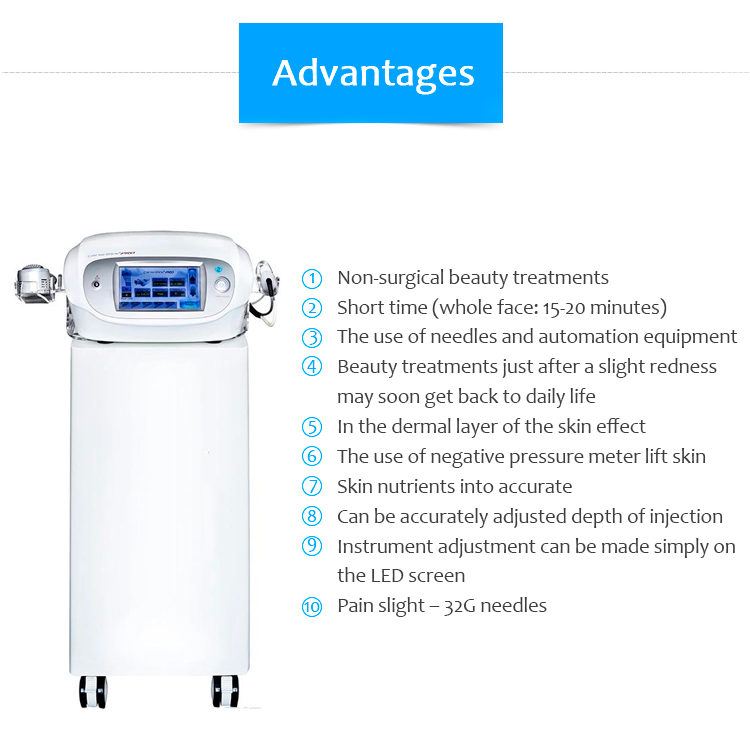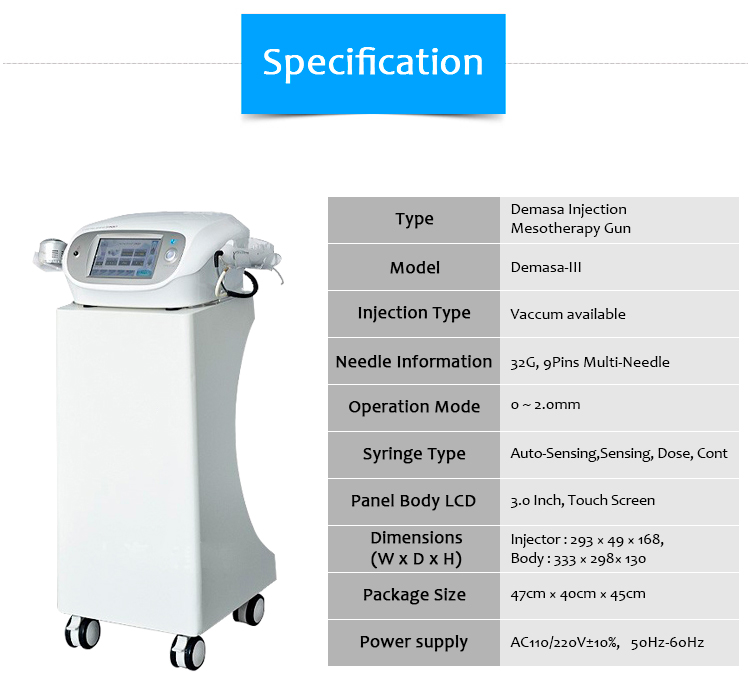 ---
Type

Demasa Injection Mesotherapy Gun

Model

Demasa-Ⅲ

Injection Type

Vaccum available

Needle Information

32G,9Pins Multi-Needle

Operation Mode

0~2.0mm

Syringe Type

Auto-Sensing, Sensing,Dose,Cont

Panel Body LCD

3.0Inch, Touch Screen

Dimension

Injector: 293*49*168

Body: 333*298*130

Package Size

47cm*40cm*45cm

Power Supply

AC110/220V±10%, 50-60Hz