808AL-01 808nm Diode Laser Permanent Hair Removal Machine
Product Details
Specification
Before & After
808nm Diode Laser Permanent Hair Removal Vertical Machine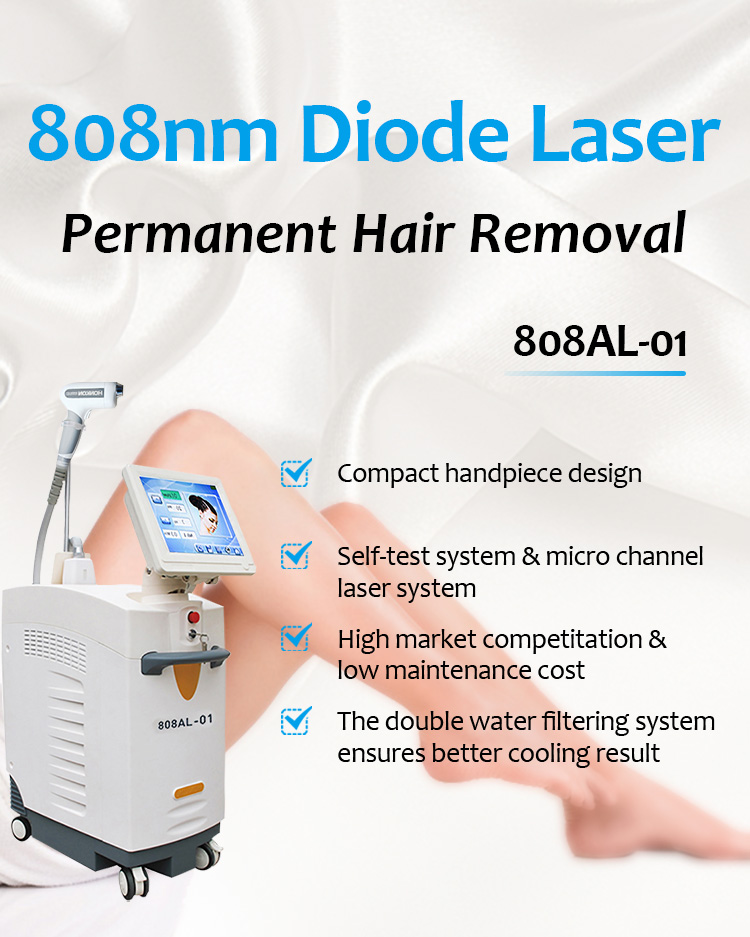 Treatment Theory
The effective penetration depth of 808 diode laser can reach the target tissue Dermal papilla. The appropriate pulse duration of the target is sufficient heat damage and the surrounding tissue is barely affected. Provide sufficient energy output to damage the target tissue and the normal tissue is almost unaffected. Skin protection measures to guarantee enough target tissue damage. To ensure the safety of the treatment. Under the mode of low energy density, the hair follicles were heated to 75℃ and the hair follicle and growth stem cells were deprived of the growth activity by the sliding maintenance of the treatment hand and the hair follicles(10hz state).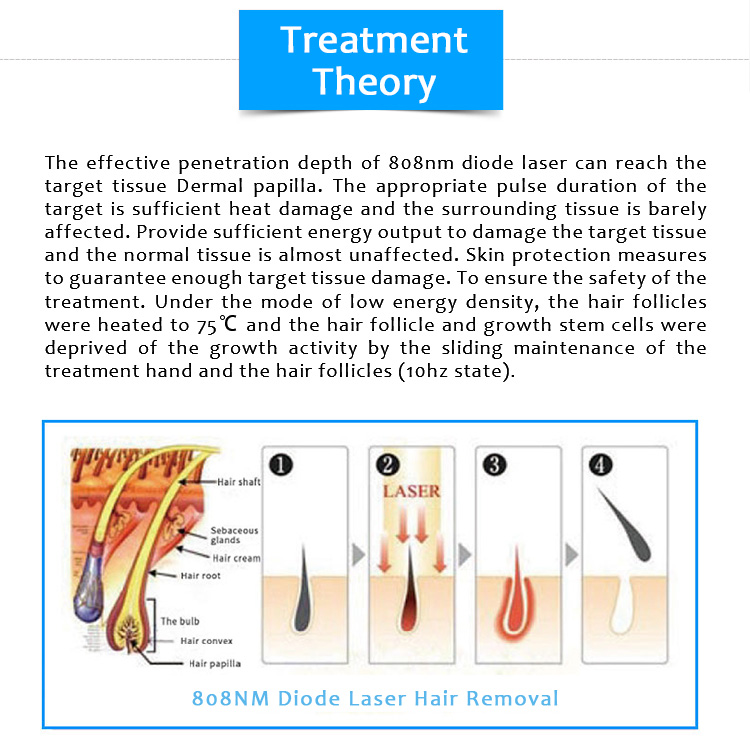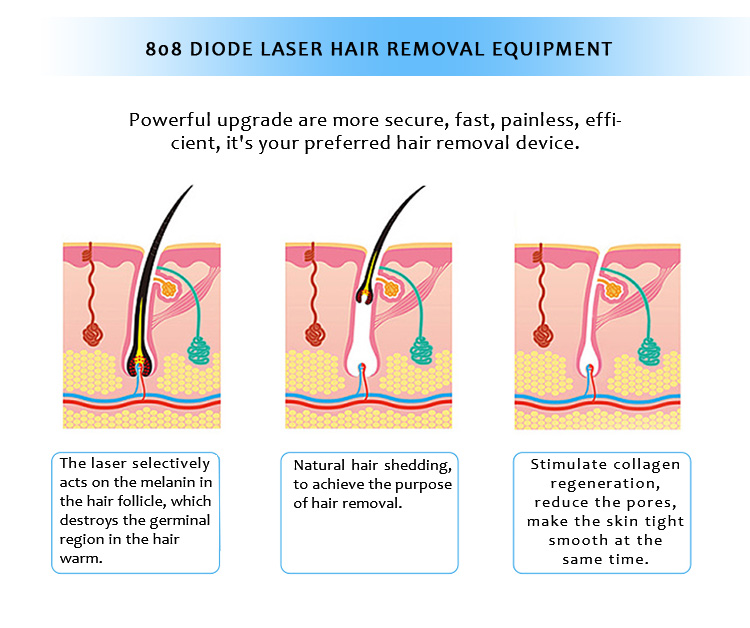 Application
Lip hair removal
Armpit hair removal
Leg hair removal
Arm hair removal
Bikini hair removal
Beard hair removal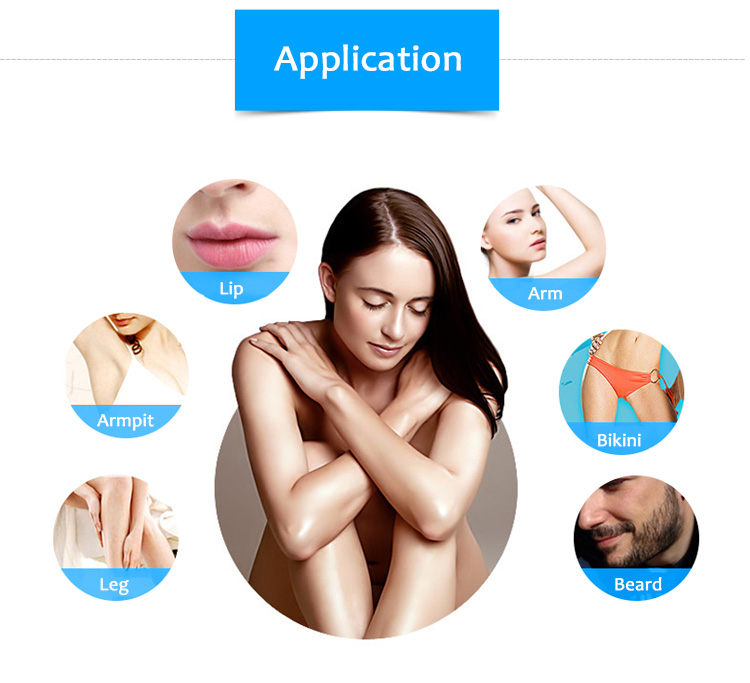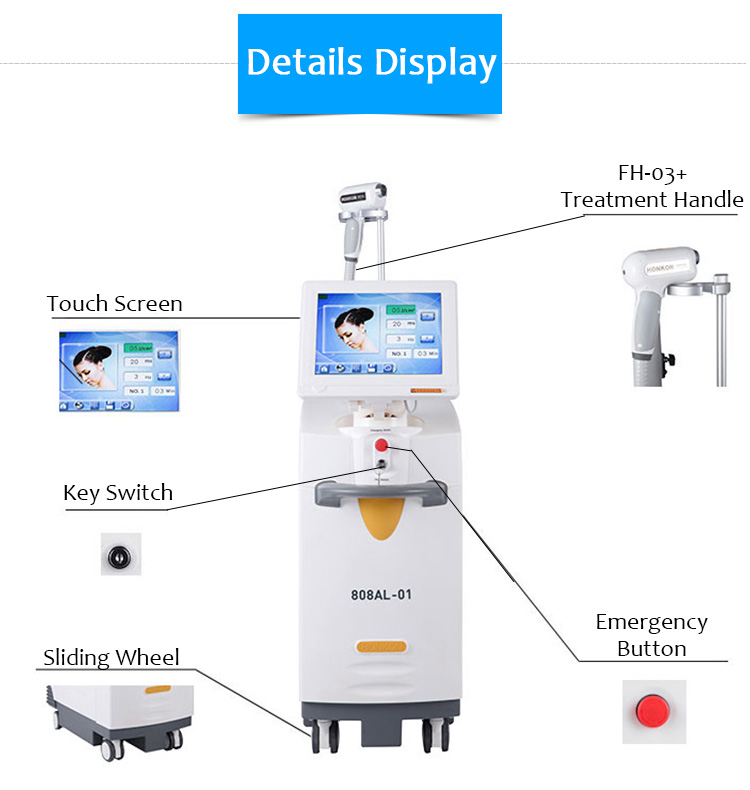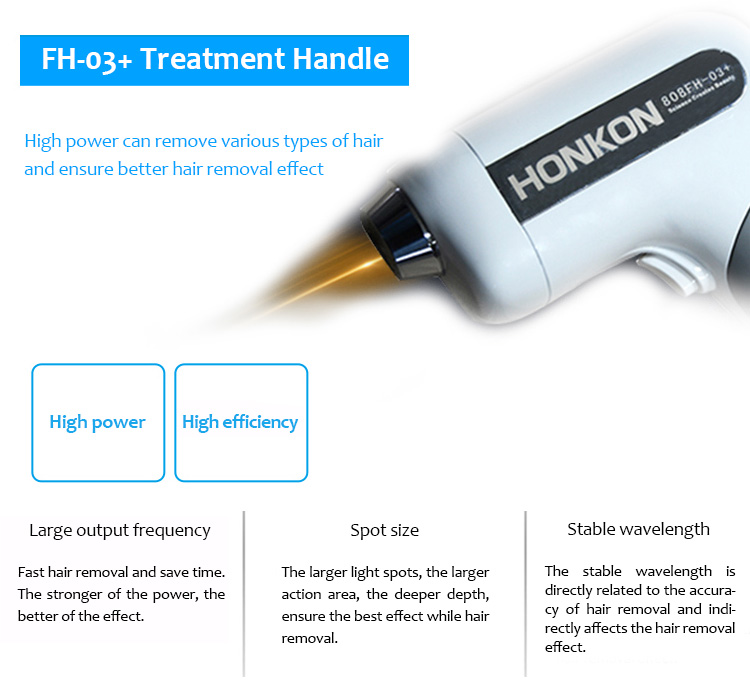 Advantages
Safer
No damage and side-effect to skin, no hair follicle inflammation, the inflamed skin after the operation, no damage to the pore and effect on the perspiration.
Faster
Short treatment time, the treatment time is less than 20 minutes, it does not affect the participation of beatuty.
Unique hair removal effect
Safe and comfortable hair removal experience, easy to achieve automaic hair removal.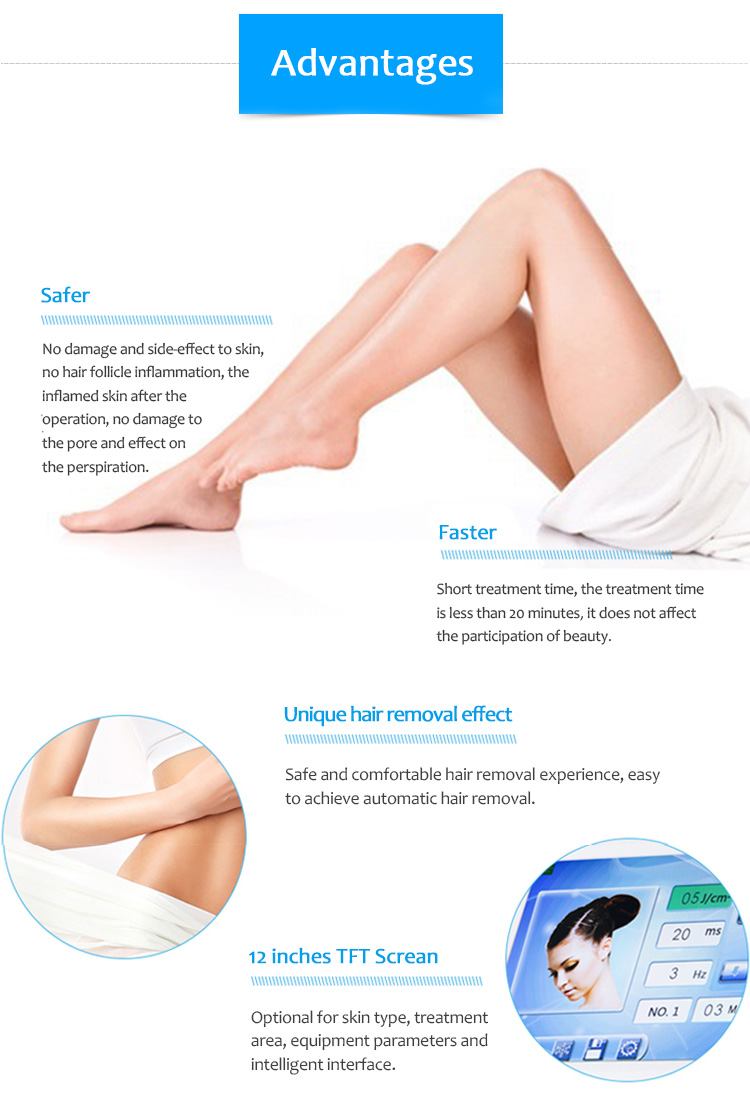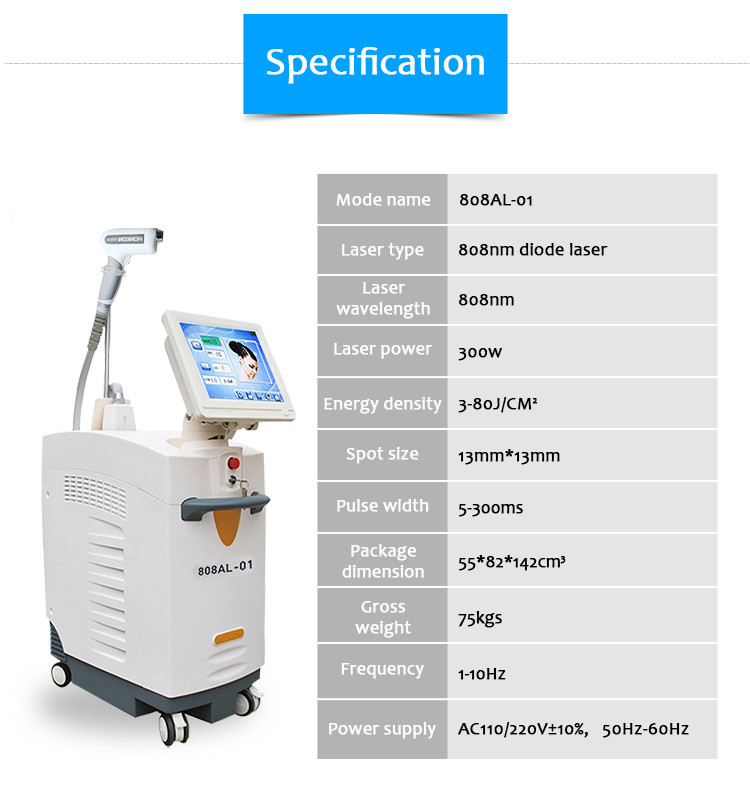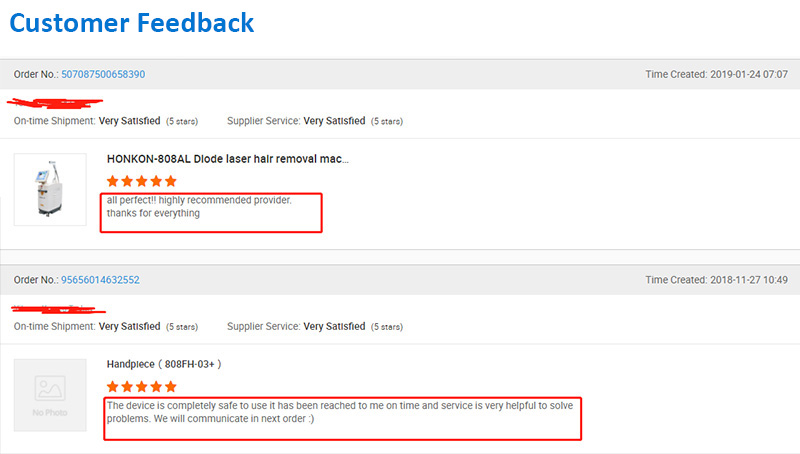 Videos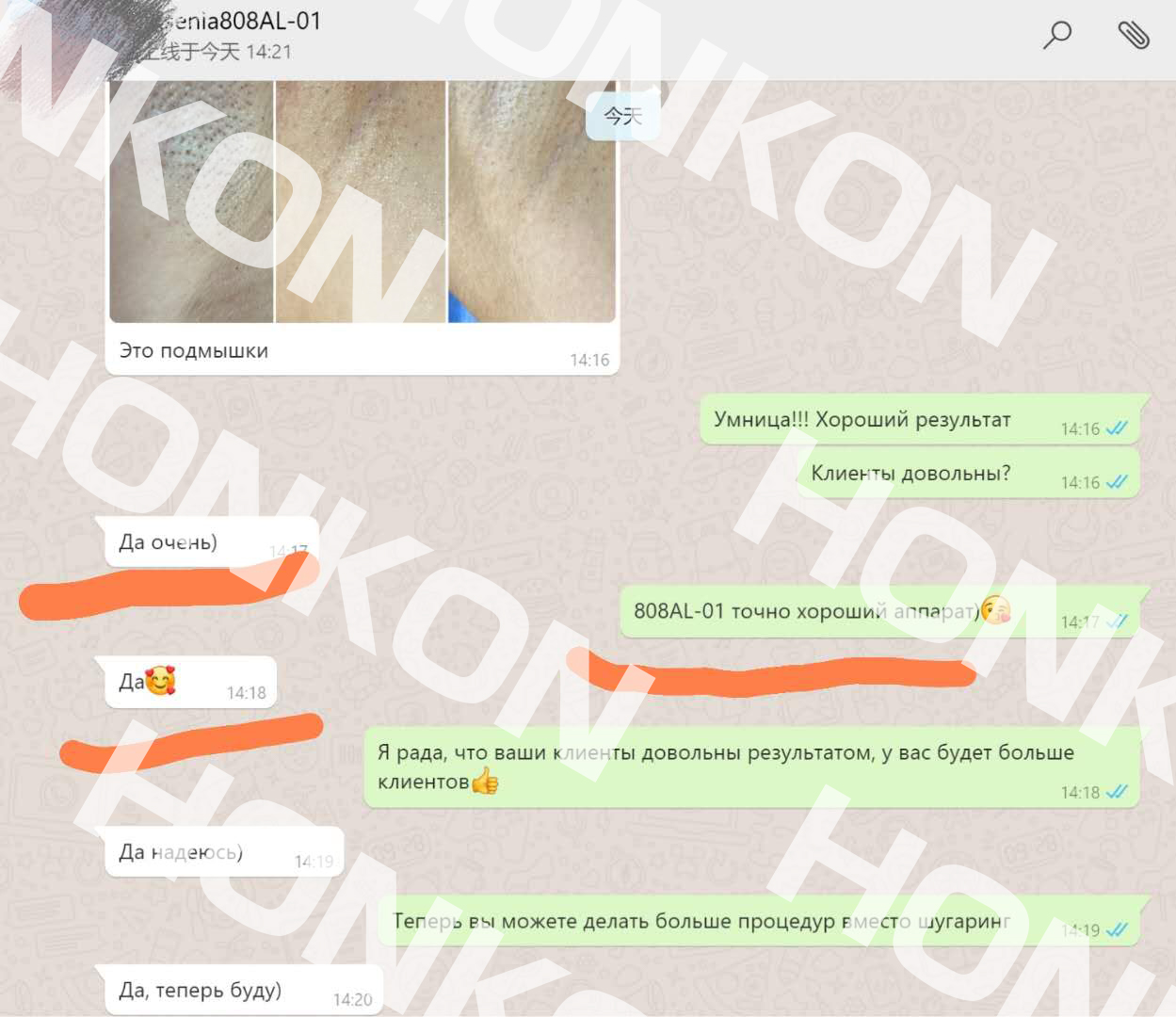 ---
Model name:808AL-01
| | |
| --- | --- |
|           Model Name Specification | 808AL-01 |
| Laser Wavelength | 808nm |
| Laser type | 808nm diode laser |
| Laser power | 300w |
| Energy density | 3-80J/c㎡ |
| Spot size | 13mm*13mm |
| Pulse width | 5-300ms |
| Frequency | 1-10HZ |
| Power supply | AC110/220V±10%,   50Hz-60Hz,10A |
| Dimensions | 55*82*142cm³ |
| Gross weight | 75kg |