MX-BBGC01 Non Invasive Body Shaping Using Electromagnetic Field Technology Beauty machine
Product Details
Specification
Before & After
MX-BBGC01 Non Invasive Body Shaping Using Electromagnetic Field Technology Beauty machine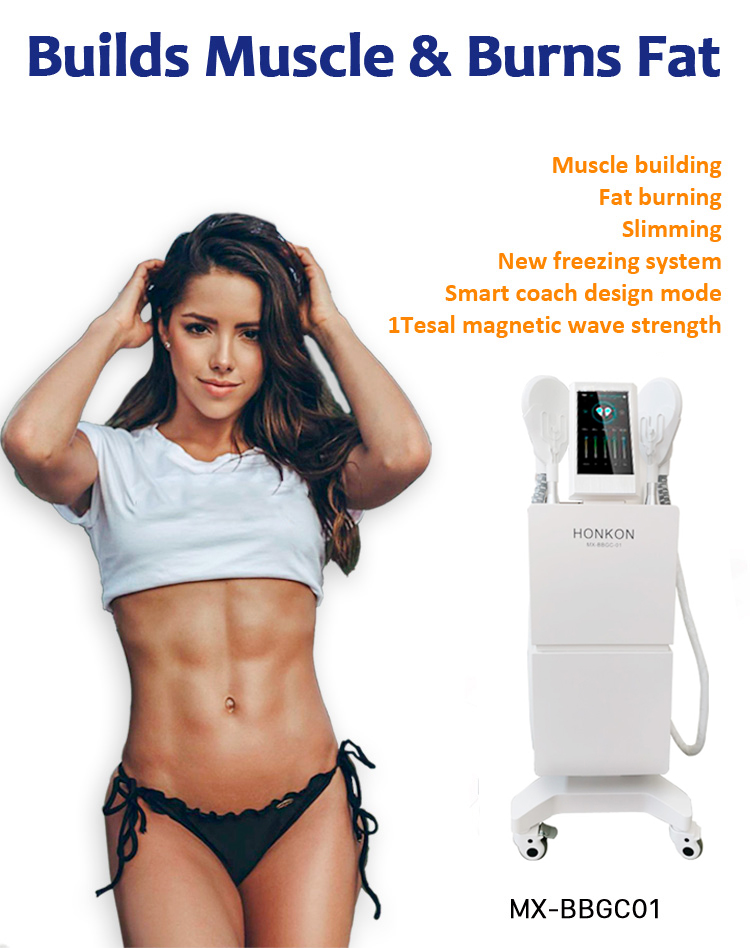 Treatment Theory
HONKON-MX-BBGC01 with HIFEM induces approximately 20000 forced muscle contractions per session. These forced contractions considered supramaximal contractions are not normally achieved through voluntary muscle action. Intensive supramaximal contractions enhance release of epinephrine which triggers a cascade effect leading to supramaximal lipolysis in fat cells.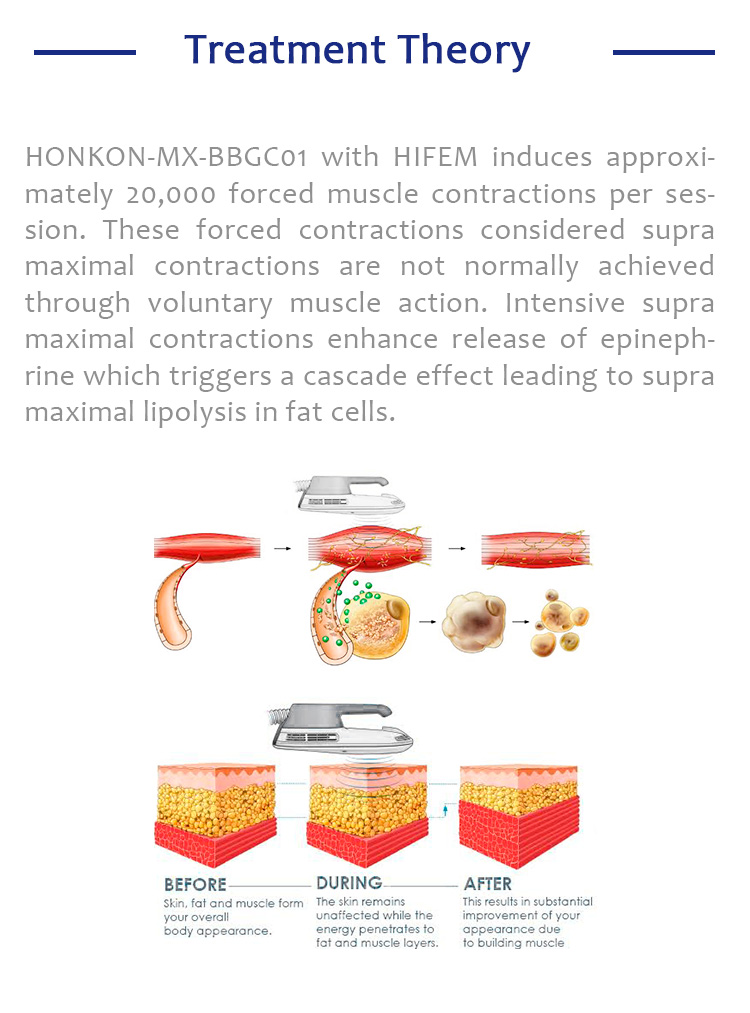 Application
1. Safe, simple and fast
The treatment is performed with the patient lying down and is extremely comfortable for him or her. A session generally lasts between 20 and 30 minutes. As a result of the non-invasive and virtually painless treatment, the patient can resume his or her normal daily activities immediately after the treatment.
2. The treatment region
Abdomen
Buttocks
Upper legs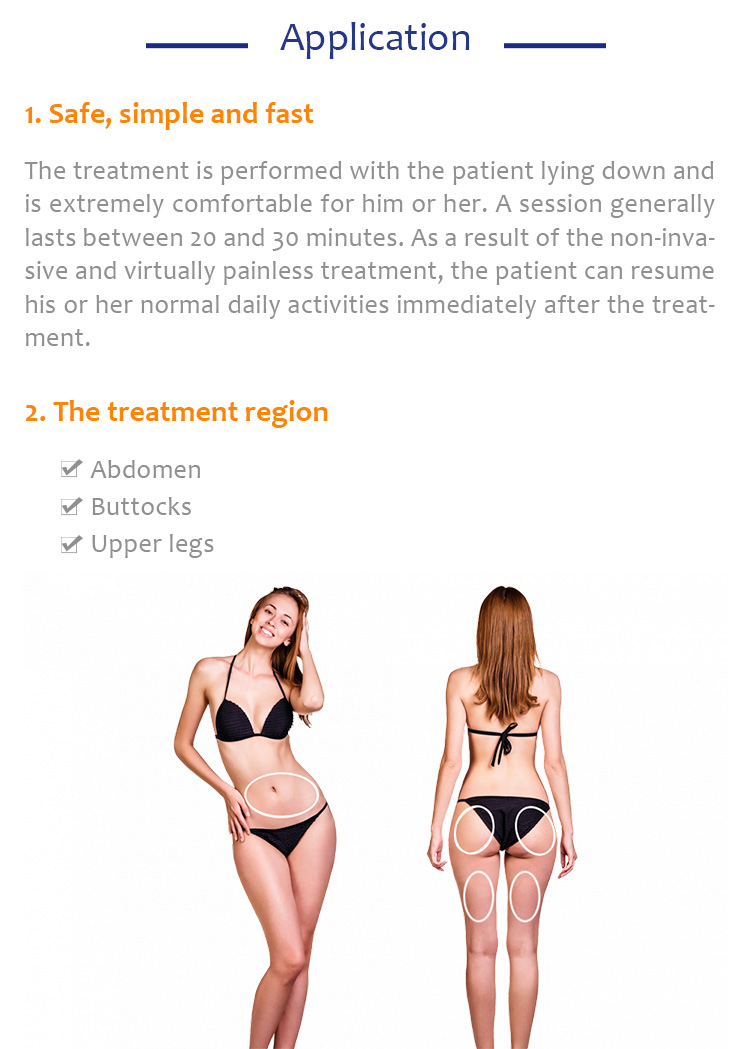 Advantages
1. The benefits of MX-BBGC01
Safe application
No downtime
Virtually painless
Short treatment times
Simple operation
2. The perfect combination for satisfied patients
MX-BBGC01 has two applicators of the same size. Both applicators are used at the same time with identical application parameters in order to stimulate opposing sections of muscle synchronously, for example. The use of a single applicator is also possible.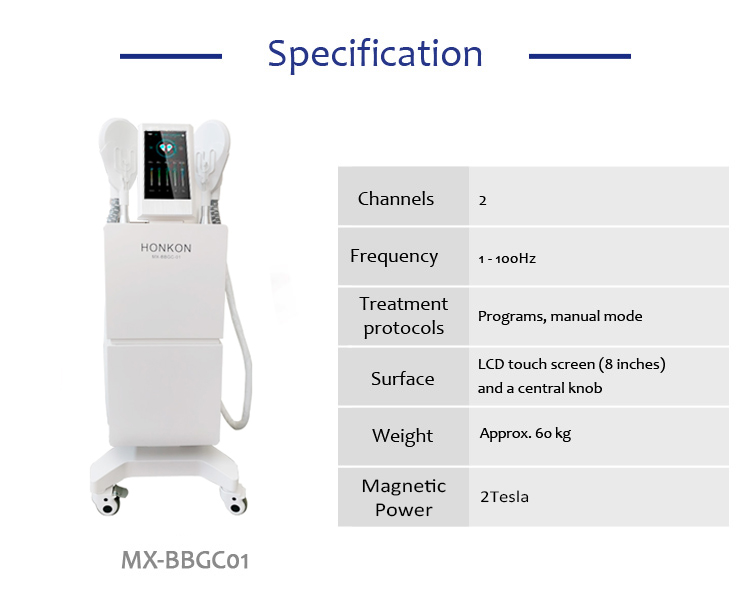 ---
| | |
| --- | --- |
| Electric current | 15A |
| Max frequency | 1-38Hz |
| Magnetic power | 0-2 Tesla |
| Magnetic pulse width | 300 us |
| Instantaneous power | 1800kw |
| Power consumption | 2kw |
| Power supply | AC110/220V±10%, 50-60Hz |