S8C Permanent Hair Removal Skin Rejuvenation Pigmentation & Vascular Lesion IPL/OPT/SHR Beauty Machine
Product Details
Specification
Before & After
S8C Permanent Hair Removal Skin Rejuvenation Pigmentation & Vascular Lesion IPL/OPT/SHR Beauty Machine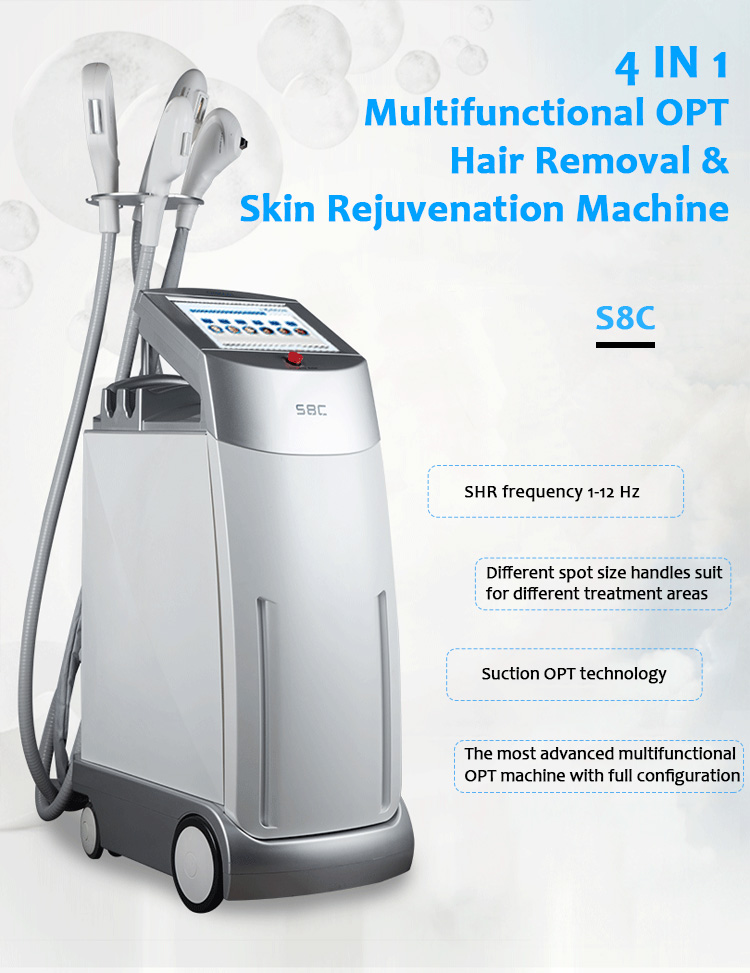 Treatment Theory
S8C adopts the suction OPT technology and double safety mode, combined with the application selective light and heat principle of LPL which strengthen the effect of the rejuvenation, freckle and hair removal and realize skin reconstruction and hair removal without obvious pain and side effect during treatment. leading the E-light instrument into a safer, more efficient and painless suction OPT century.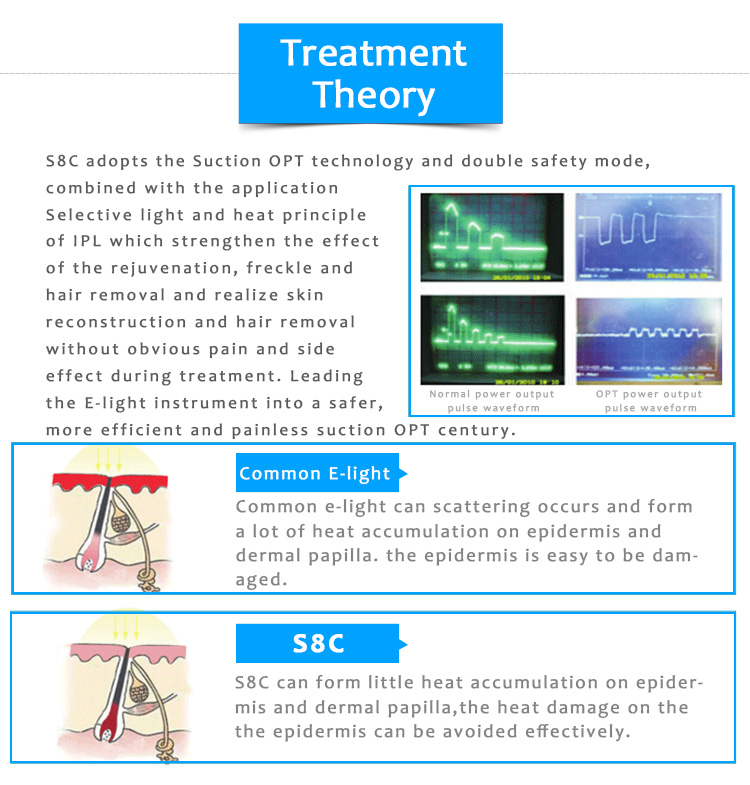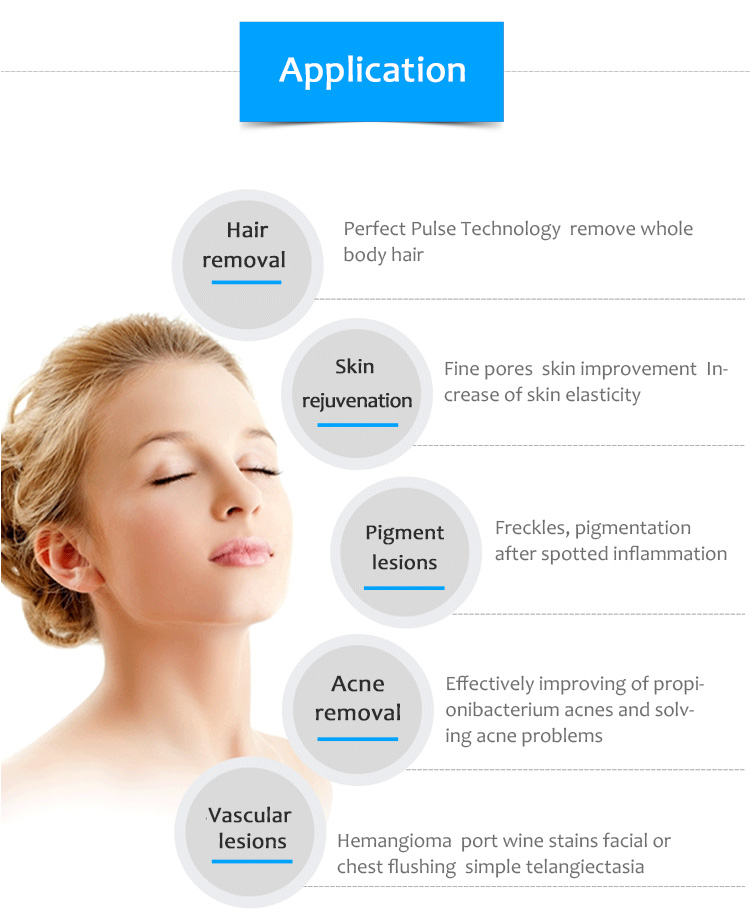 Application
1. Hair removal
2. Acne removal
3. Vascular Lesion removal
4. Skin rejuvenation: Pores shrinking, superficial wrinkle, skin texture improvement
5. Pigment: Freckle, lentigo, age spot with spot-like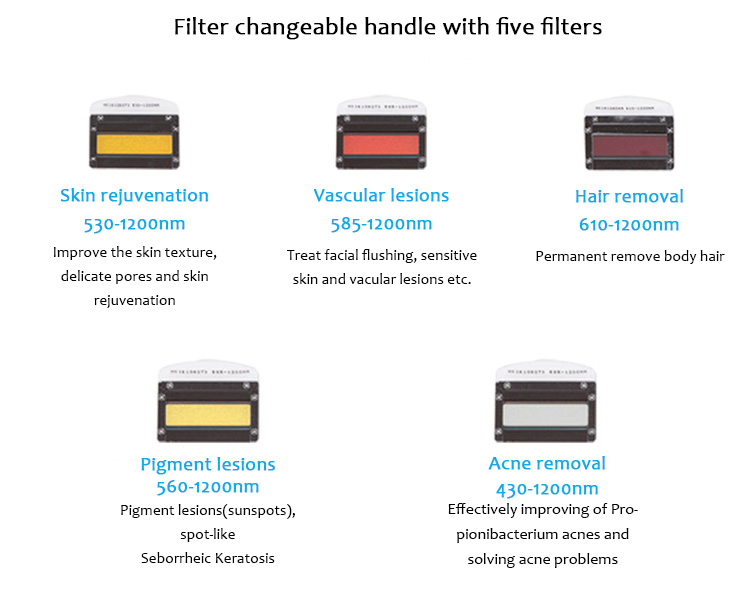 Advantages
1. Innovative OPT technology, ensures the stable energy output for every pulse, which brings the safe and painfree experience for customer.
2. Unique Vacuum assisted technology, brings more effective clinical result.
When skin is sucked into the socket, then the density of melanin and hemoglobin are reduced, which greatly reduce the competitive absorption of hemoglobin. Thus more energy targets on melanin directly, so the treatment result is doubled than before. At the same time, the vacuum will temporary compress the nevus ending, so reduce the sensitivity, thus realize the real pain free treatment during treatment.
3. Friendly interface, easy for operator.
4. Big spot size:15mm*60mm virtually offers the fast treatment.
5. Smallest spot size:10mm*10mm, bring an easy treatment for every localized areas.
6. 4 handpieces, flexible combination, bring the most effective treatment.
7. SHR frequency 1-12 HZ.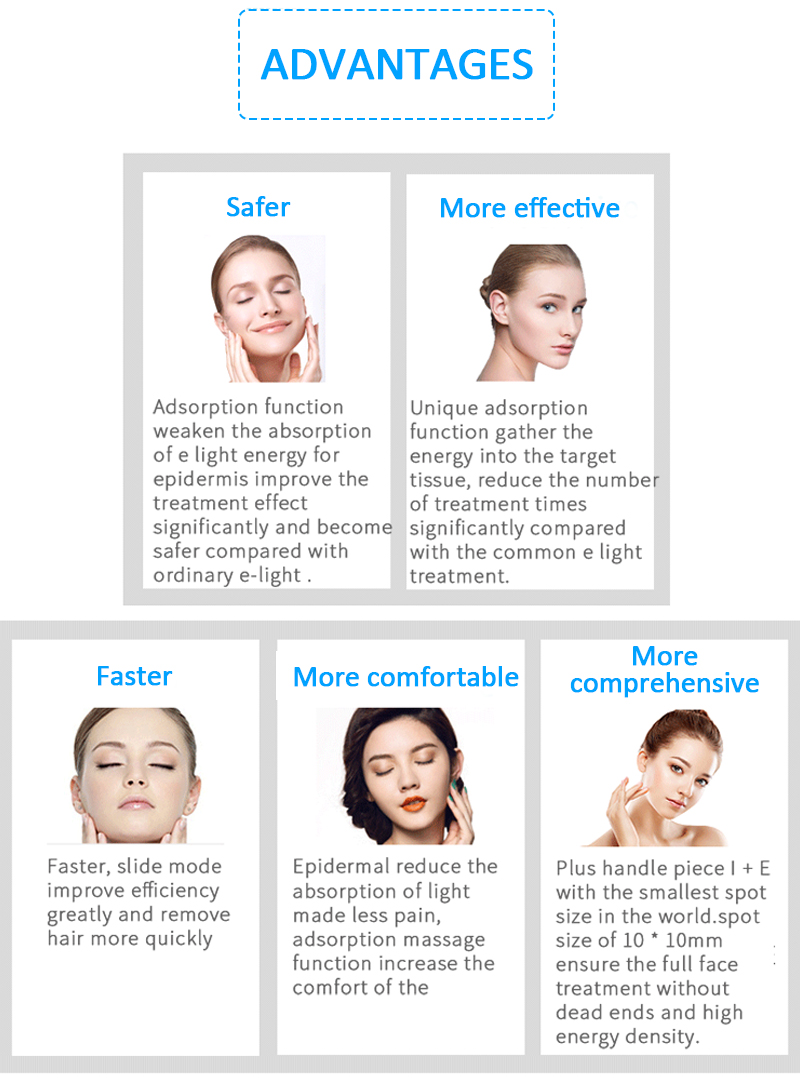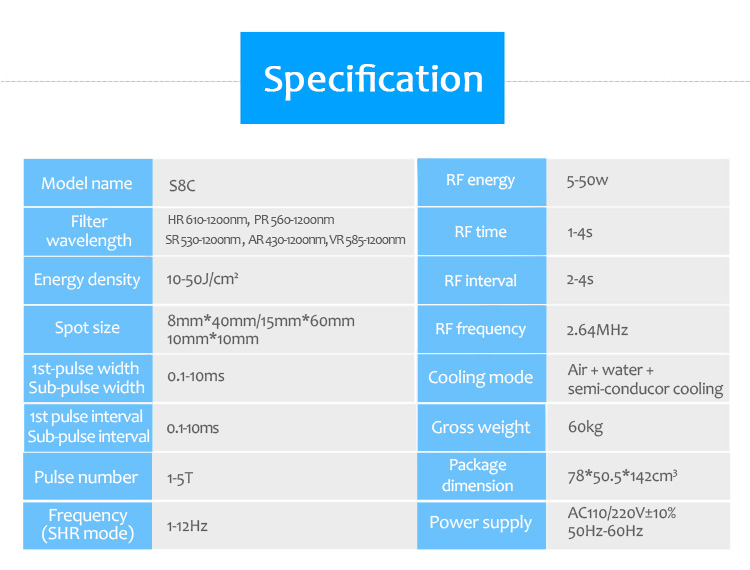 ---
Model name : S8C
Filter wavelength

HR 610-1200nm




SR 530-1200nm




VR 585-1200nm




PR 560-1200nm




AR 430-1200nm

Energy density

10-50J/c㎡

Spot size

8mm*40mm/15mm*60mm/10mm*10mm

1st-pulse width
Sub-pulse width

 0.1-10ms

1st pulse interval
Sub-pulse interval

0.1-10ms

Pulse number

1-5T

Frequency(SHR mode)

1-12Hz

RF enery

5-50w

RF time

1-4s

RF interval

2-4s

RF frequency

2.64MHz

Cooling mode

Air + water + semi-conductor cooling

Power supply

AC110/220V±10%,   50Hz-60Hz,10A

Package dimension

78*50.5*142cm³

Gross weight

60kg