Ulove01 Portable HIFU face lift skin tightening wrinkle removal beauty salon equipment
Product Details
Specification
Before & After
Portable HIFU face lift skin tightening wrinkle removal beauty salon equipment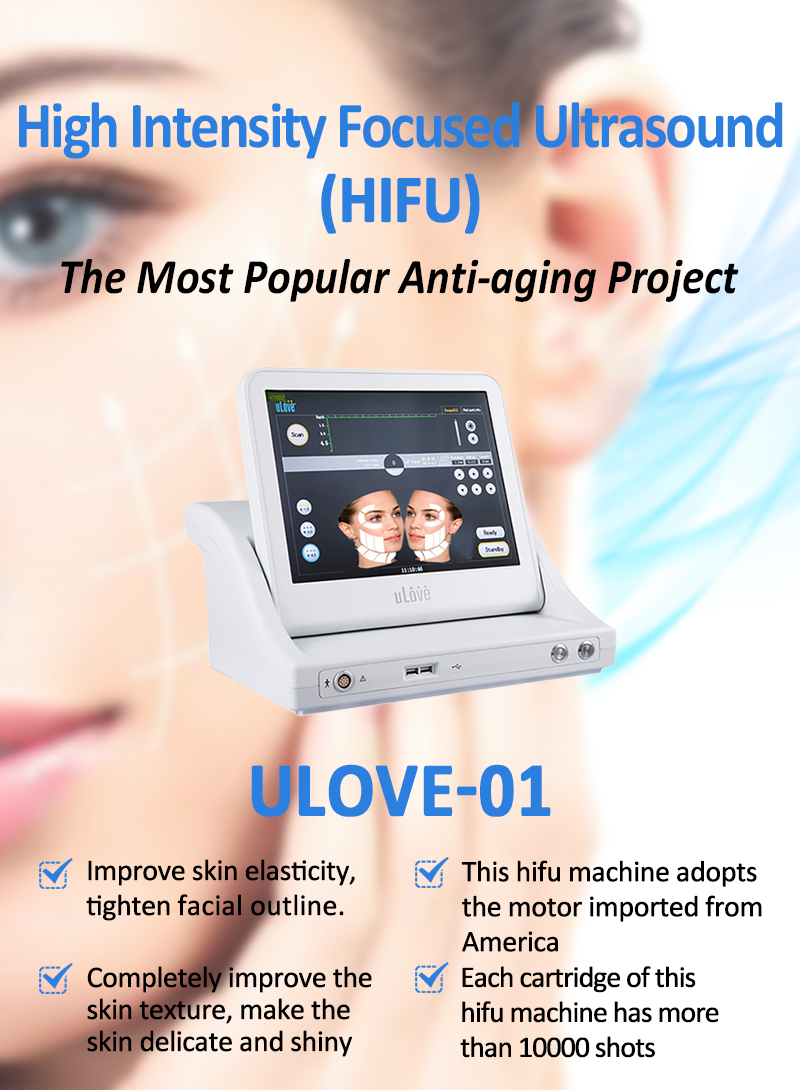 Treatment Theory
HIFU (high intensity focused ultrasound technology) works by generating continuous thermal coagulation point (the temperature reaches to 60-75 degree),causes collagen denaturation,leads to collagen remodeling,reconstruction of skin reshaping of body.
Stage 1, Collagen denaturation- immediate lift seen within less that 2 mins of treatment in this stage due to collagen denaturation and collagen contraction.
Stage 2, Neo collagenesis and collagen remodeling,this period lasting for 3 to 6 months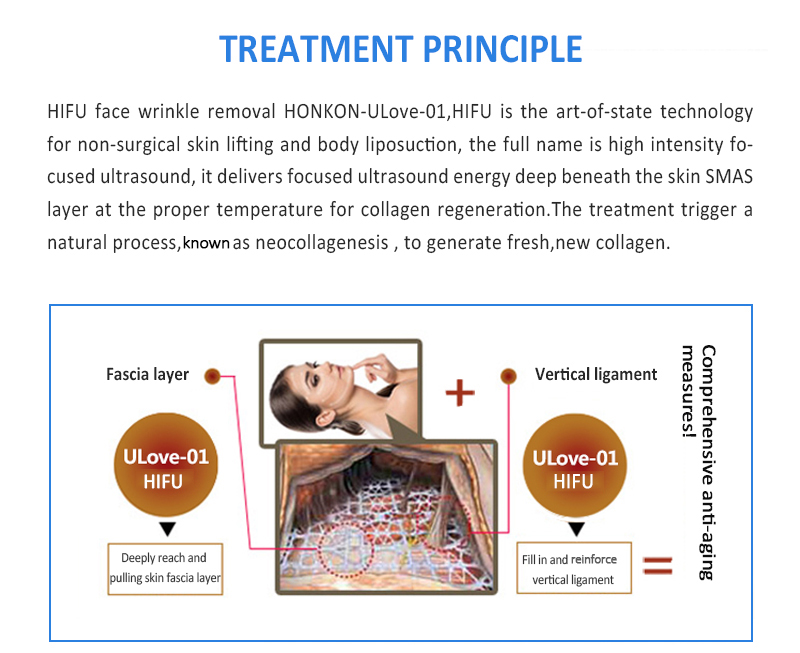 Applications
1.Skin tightening: Shrink the forehead skin, eye bags,mouth wrinkle,double chin.
2.Wrinkles removal: Forehead wrinkles,eye wrinkles,lip wrinkles, neck wrinkles.
3.Improve Photo-aging: Improve skin elasticity,face lifting.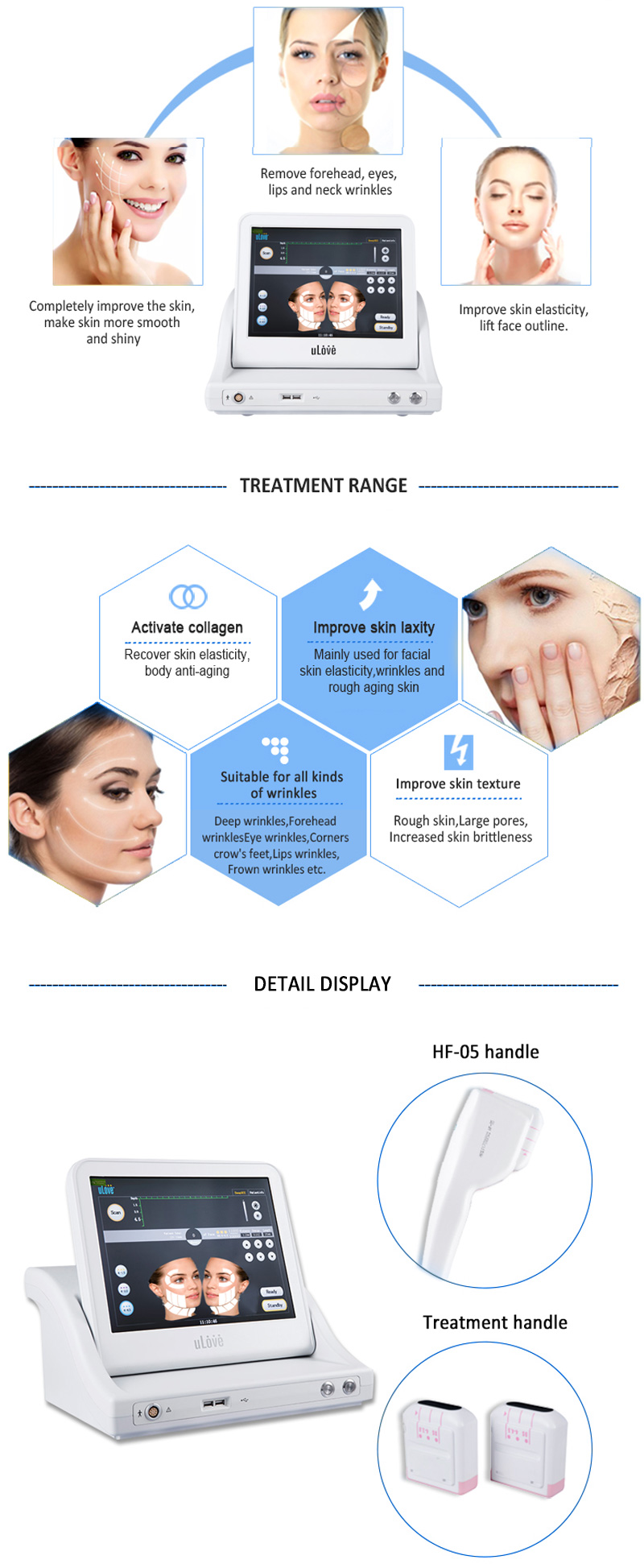 Features & Advantages
1. Skin lifting: Lift forehead, neck, facial skin.
2. Face shaping: Improve skin elasticity, tighten facial outline.
3. Skin improving: Completely improve the skin texture, make the skin delicate and shiny.
4. Wrinkle removal: Fade forehead, eyes, lips and neck wrinkles.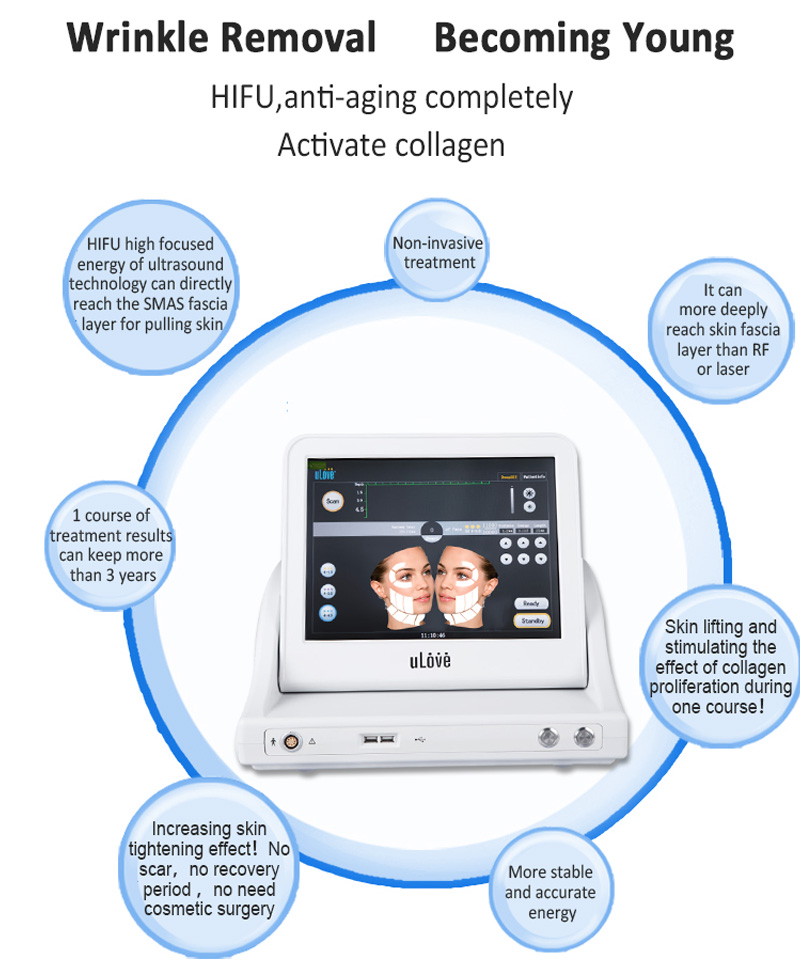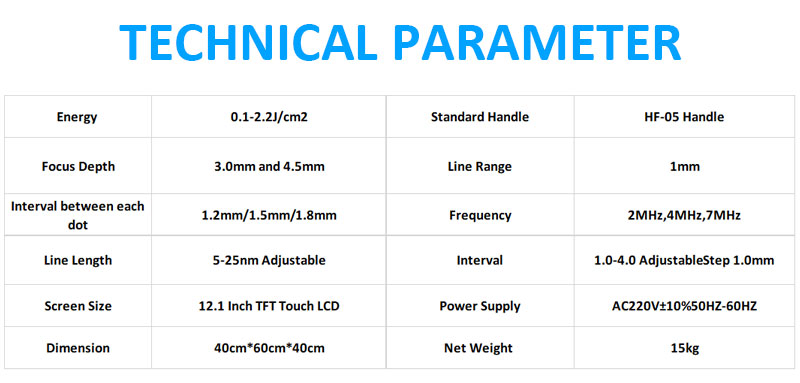 ---
Model name : Ulove01
Model Name

ULove-01

Standard Handle

HF-05 Handle

Energy

0.1-2.2J/cm2

Line

Half , Full

Focus Depth

3.0mm and 4.5mm

Line Range

1mm

Interval between each dot

1.2mm/1.5mm/




1.8mm

Frequency

2MHz,4MHz,7MHz

Line Length

5-25nm




Adjustable

Interval

1.0-4.0 Adjustable




Step 1.0mm

Screen Size

12.1 Inch TFT Touch LCD

Power Supply

AC220V±10%




50HZ-60HZ

Dimension

40cm*60cm*40cm

Net Weight

15kg