Ulove02-plus Wrinkle Removal Anti-Aging Skin Tightening Body Slimming Face Lifting Machine
Product Details
Specification
Before & After
 Ulove02-plus Wrinkle Removal Anti-Aging Skin Tightening Body Slimming Face Lifting Machine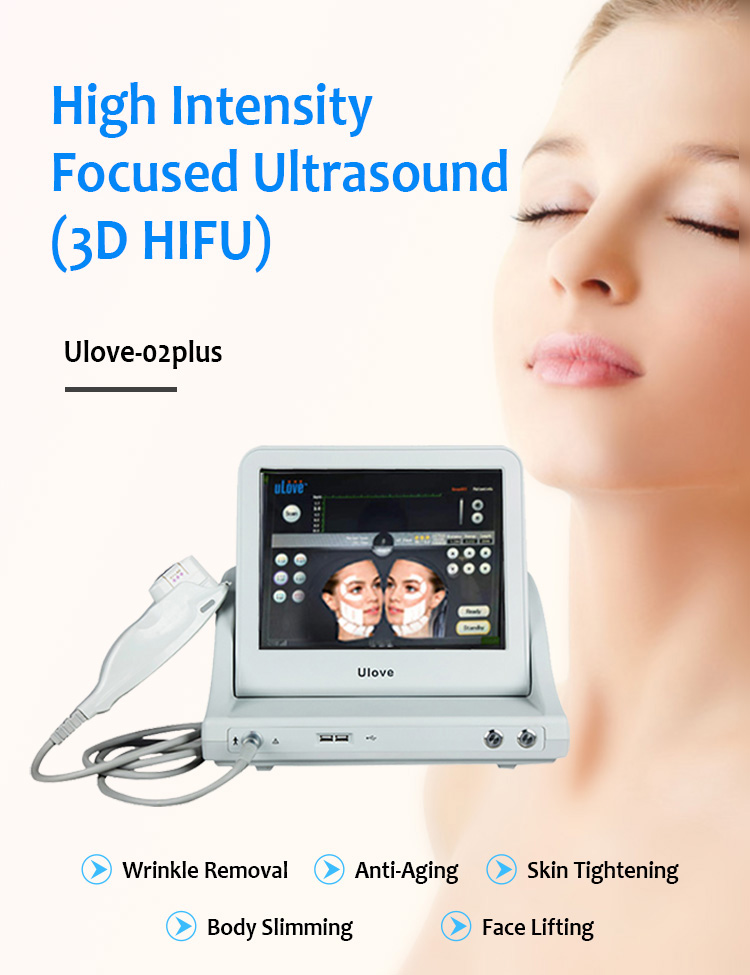 Treatment Theory
HIFU is the art-of-state technology for non-surgical skin lifting and body shaping, the full name is High intensity Focused Ultrasound. HIFU directly delivers heat energy to skin and subcutaneous tissue that can stimulate and renew the skin's collagen and thus consequently improving the texture and reducing sagging of the skin. HIFU will heat the SMAS up to 60℃~70℃, the heat energy raise thermal coagulation point which accelerates skin rejuvenation process and maximize tightening effect of the skin layer. Over 90-180 days, the wound-healing response stimulates long-term tissue remodeling and leads to further lifting and tightening, with results that can last 1 tp 3 years.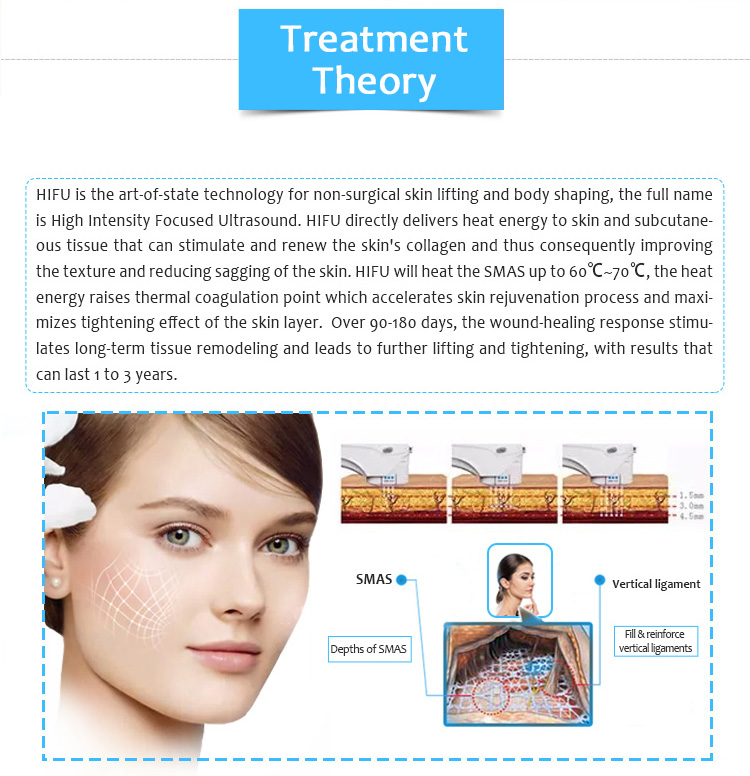 Applications
1. Activate Collagen: Recover skin elasticity Anti-aging.
2. Lifting & Tightening: Face lifting & skin tightening Forehead, face and neck.
3. Suitable for all kinds of Wrinkles: Deep wrinkles, forehead wrinkles, eye wrinkles,corners crow's feet, Lips wrinkles, frown wrinkles etc.
4.Lift Laxity Skin: Tighten skin laxity around the eyes cheek skin chin and other parts.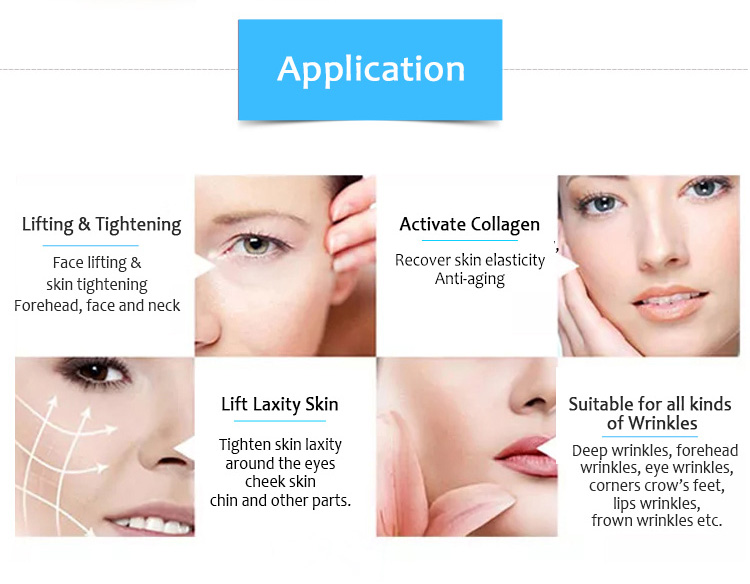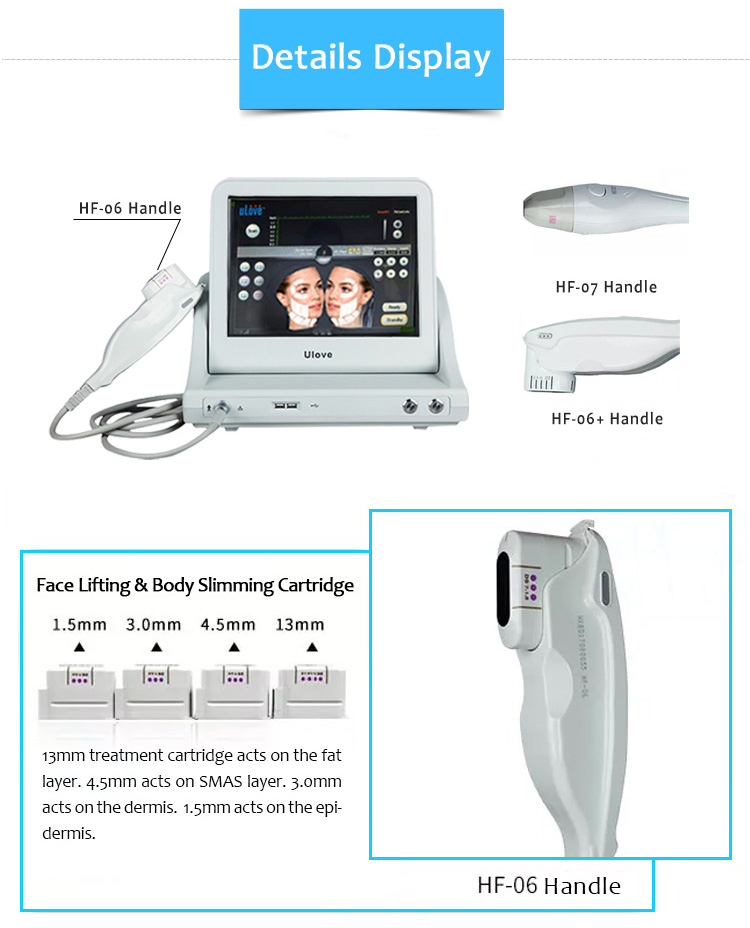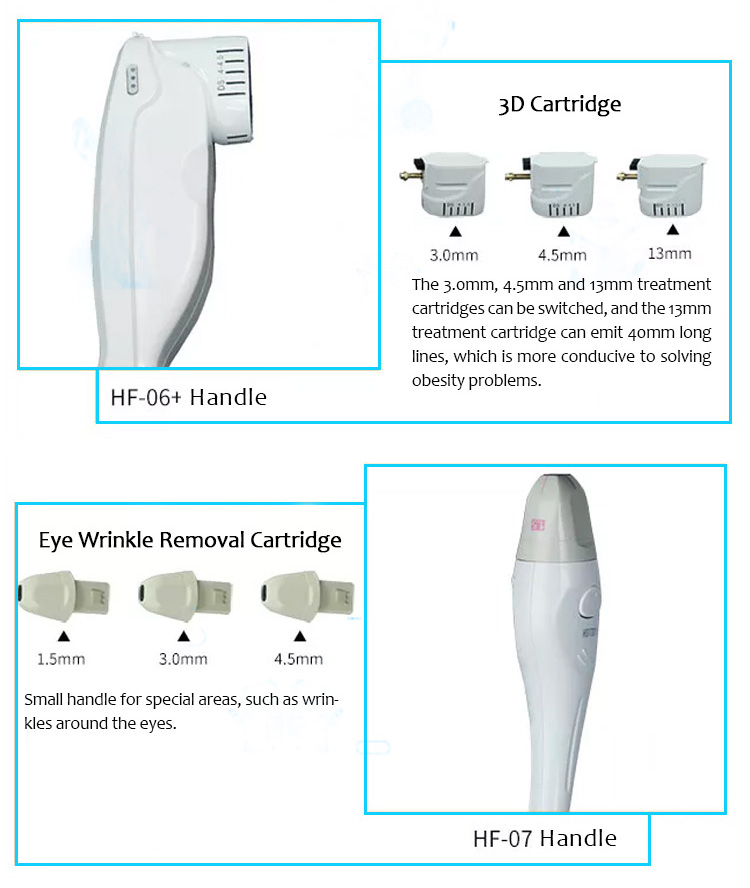 Features & Advantages
1. This is the unique model which combine 2D and 3D HIFU technologies into one machine.
2. The 3D HIFU can increase the treatment speed for face and body.
3. The high quality ceramic and copper pin are imported from Japan.
4. Each cartridge of this hifu machine has more than 10000+ shots, which is the longest comparing to similar machines.
5. One patented designed handle with small spot size can treat the localized area, such as the eye bag, crow's feet effectively.
6. This adopts the good quality motor imported from America. The speed of each shot only take 1 second.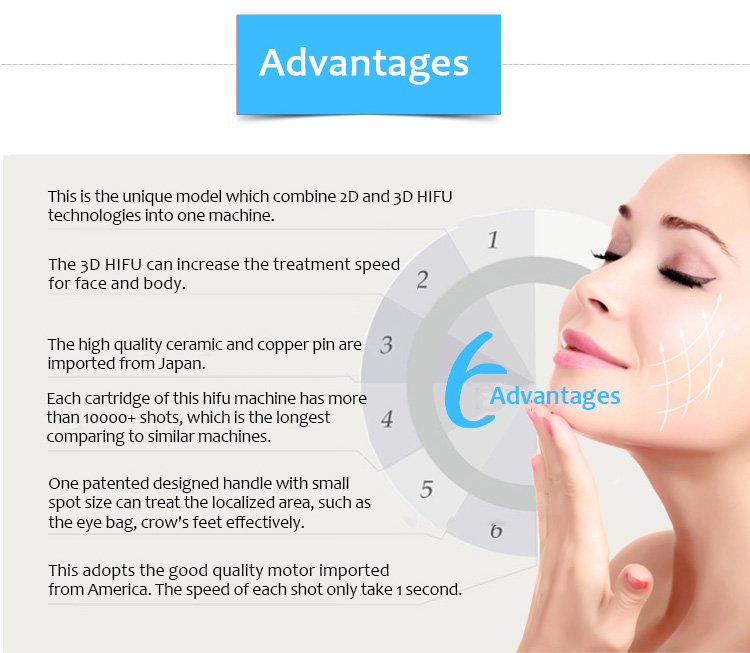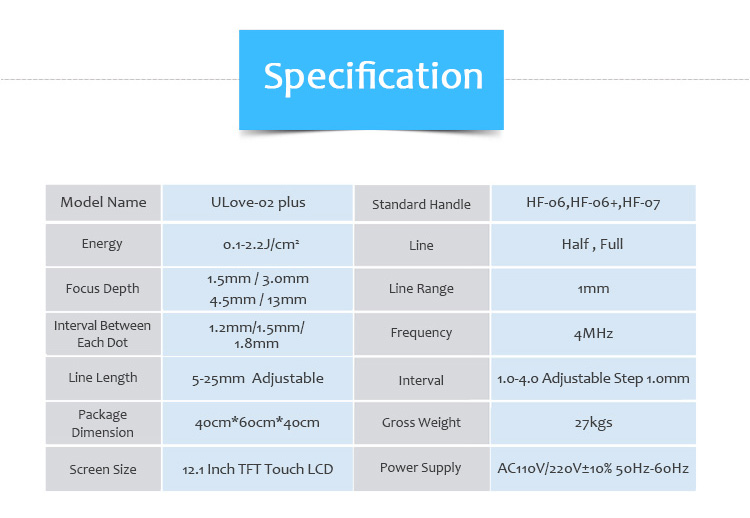 ---
Model name : ulove02-plus
Model Name

ULove-02plus

Energy

0.1-2.2J/cm2

Focus Depth

1.5mm/ 3.0mm/




4.5mm/ 13mm

Interval between each dot

1.2mm/1.5mm/




1.8mm

Line Length

5-25mm




Adjustable

Screen Size

12.1 Inch TFT Touch LCD

Dimension

40cm*60cm*40cm

Standard Handle

HF-06,HF-06+,HF-07

Line

Half , Full

Line Range

1mm

Frequency

4MHz

Interval

1.0-4.0 Adjustable




Step 1.0mm

Power Supply

AC220V±10%




50HZ-60HZ

Net Weight

27kgs