V-LIFT ++ Wrinkles Removal Body Anti Aging RF Skin Lifting Machine
Product Details
Specification
Before & After
V-LIFT++ Wrinkles Removal Body Anti Aging RF Skin Lifting Machine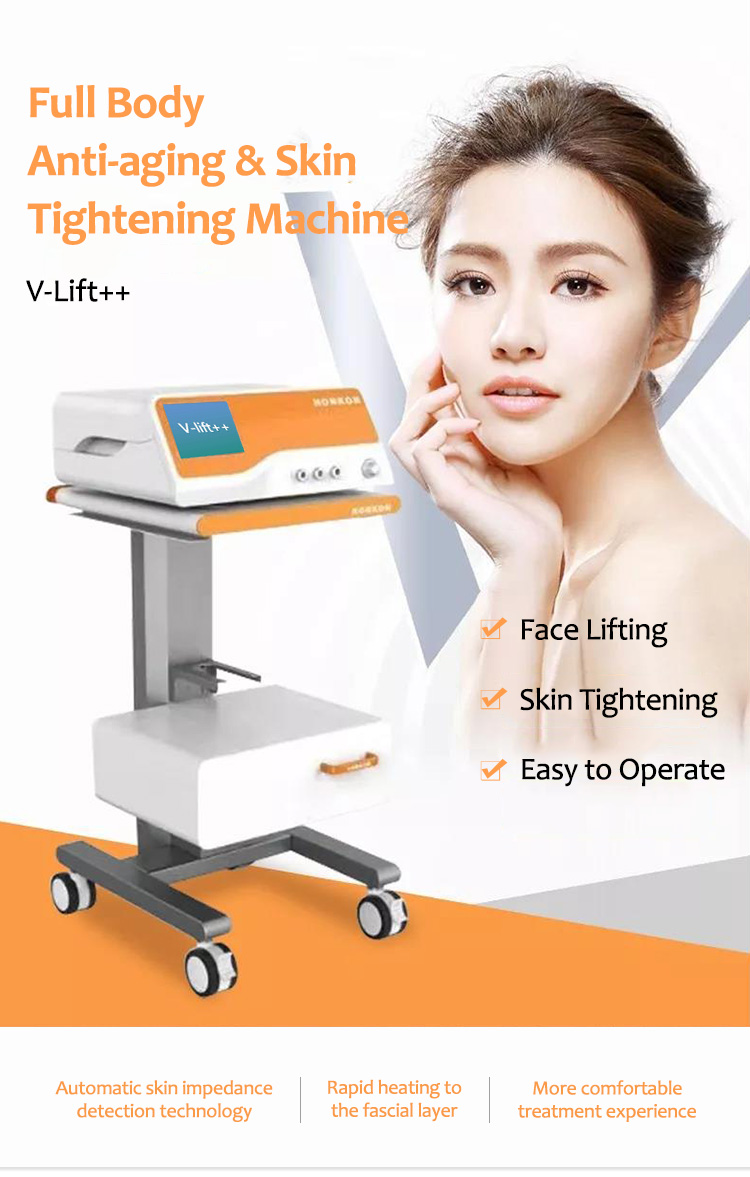 Treatment Theory
The role of the RF beauty instrument is to directly penetrate the skin by using RF waves. Besides, using the impedance of skin, RF waves also allow the cells to produce intense resonance rotation (millions of times per second) to generate heat for collagen tissue heating and fat cell heating, causing the temperature of the lower layer of the skin to rise instantly. According to the principle that stimulation with the dermis produces immediate collagen tightening and regeneration, which achieves the effect of face lifting and wrinkle reducing. After treatment, collagen will gradually proliferate and reform, so that the sagging or loose skin can be lifted and tightened.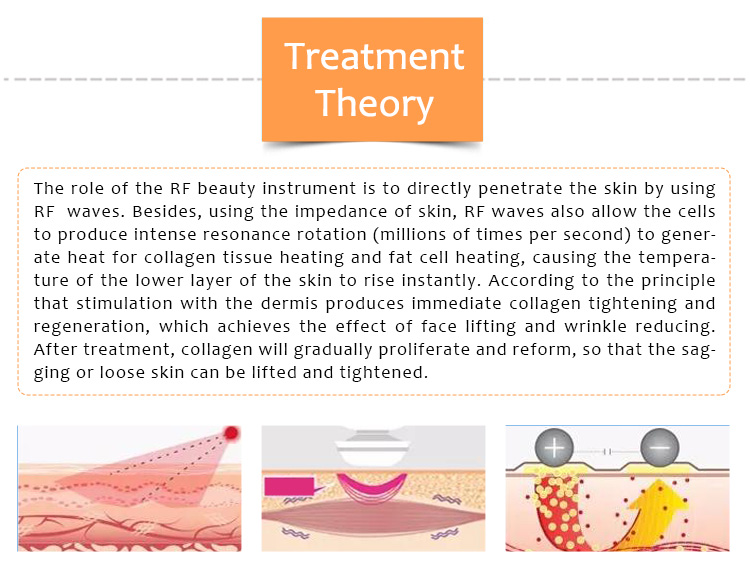 Application
Full body anti aging & sculpting
V- Face shaping within 30 mins
Neck & chin lifting
Eye wrinkles removal & eye bags improving
Abdominal sculpting, including stomach health problem solving.
Lift hips and upward buttocks
Back health caring,promote blood circulation and detoxification
Improve waist health problems including strain of lumbar muscles, etc.
Improve obesity/ eliminate cellulite(orange peel)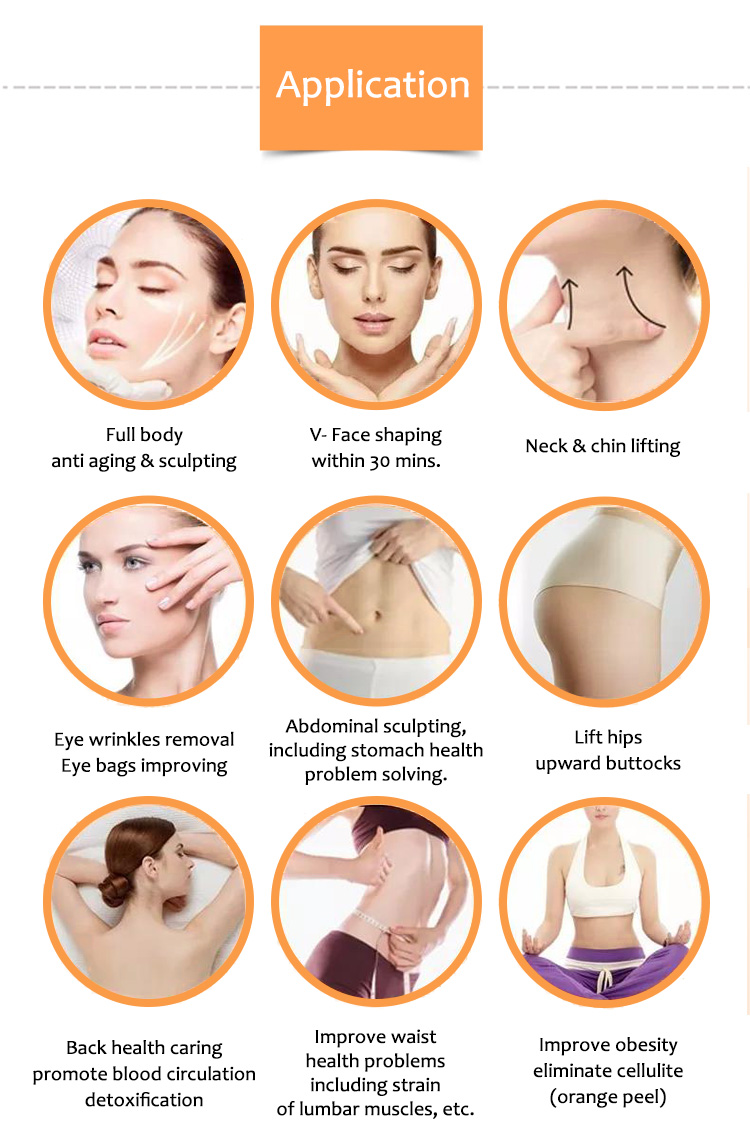 Features & Advantages
1. The fifth generation of super composite RF automatic skin impedance detection technology is safe and reliable,the penetration depth can reach to 10-20mm.
2. With insulated oxidized ceramic arc type treatment head & small handle, the treatment experience will be more comfortable.
3. With mono-polar 4.096MHz radio frequency technology, ceramic probes with high RF output power up to 300 watts, which can achieve the result of skin tightening and cellulite elimination.
4. Negative plate loop technology adopts insulating non-woven technology, so that the power is released into a closed loop, without contact with the skin, instead, conduction through the air, heating is more uniform and treatment is safer and more comfortable.
Advanced RF electrical impedance, voltage, current, power closed-loop output. With the Intelligent detection function, it can effectively avoid danger in treatment and ensures uniform output power and heating skin tissues.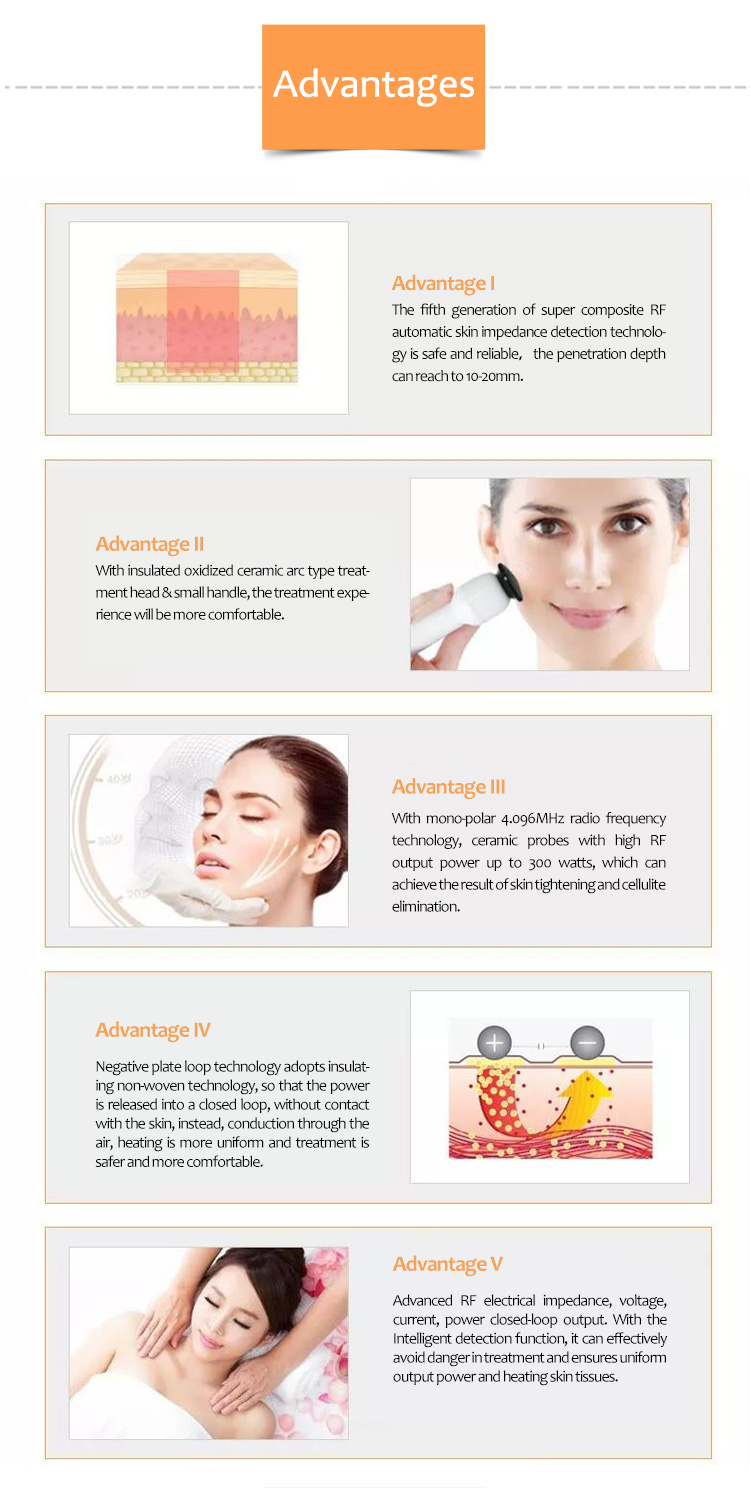 ---